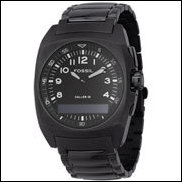 Our goal for the Bluetooth watch was to create a product that enhances the lifestyle of the wearer without compromising style or usability
London, UK (PRWEB) October 7, 2006
Widget UK Ltd, a leading supplier of mobile technology and accessories, today announced the availability of the first mainstream Bluetooth fashion accessory, the Caller ID wristwatch.
Incorporating Bluetooth wireless technology, the watch will simplify how people interact and engage with their mobile phones. Combining fashion forward technology with added functionality and efficiency, the Bluetooth watch enables users to stay connected without compromising style. The watch designs were adapted from top selling Fossil models.
The analog/digital watch links effortlessly via Bluetooth to certain mobile phones allowing users to view incoming caller ID information on the watch face. Users are notified when their phone rings and when a text message is received. When users are unable to answer their phone, a single button press can mute or reject an incoming call. When a voicemail or text message is received, users are alerted by an icon of an envelope that appears on the watch accompanied by a slight vibration.
"Our goal for the Bluetooth watch was to create a product that enhances the lifestyle of the wearer without compromising style or usability," said Bill Geiser, Vice President of Watch Technology at Fossil. "Watches are evolving with technology and Fossil is at the forefront of that revolution."
Partnering with Sony Ericsson Mobile Communications, a global leader in the mobile handset industry, Fossil's new wireless product boasts a fashion-forward design that is as attractive as it is capable. "Combining Fossil's fashion and watch expertise with Sony Ericsson's Bluetooth technology expertise helped us to create a smart, dynamic and fashionable watch that keeps you connected in all situations and eliminates the need to fumble through your pocket or handbag each time someone calls," adds Geiser.
Additional features include a two-hand analog for easy timekeeping, vibrating alert of incoming call or SMS/MMS, Caller ID or number displayed, out of range warning (after 10 meters the watch vibrates when phone goes out of range), view phone's time/date, simple two-button auto pairing operation, bright OLED display, reject/mute incoming calls (one button push mutes the phone's ringer, two button pushes rejects the call), water resistant to 3 ATM, and compatibility with most Sony Ericsson Bluetooth phones. The watch also features a lithium rechargeable battery that lasts approximately 5-7 days based on conditions of use. The battery can be recharged through a USB or universal AC adapter.
The ABACUS branded product (MobileWear by ABACUS) comes in two styles: one with a stainless steel case and bracelet (style AU6001) and the other with a stainless steel case and black PU strap (style AU6002).
Pricing and availability
The Abacus MobileWear watch is available mid October and can purchased online at http://www.widget.co.uk
Abacus MobileWear watch - £149.99 inc VAT
About Fossil Inc.
Fossil is a design, development, marketing and distribution company that specializes in consumer products predicated on fashion and value. The company's principal offerings include an extensive line of fashion watches sold under the company's proprietary and licensed brands. The company also offers complementary lines of small leather goods, belts, handbags, sunglasses, jewelry and apparel. The company's products are sold in department stores and specialty retail stores in over 90 countries around the world, in addition to the company's e-commerce website at http://www.fossil.com. Certain product, press release and SEC filing information concerning the Company is available at the website.
About Widget UK Ltd
Widget UK is a leading supplier and distributor of mobile computing devices and accessories. Its portfolio includes satellite navigation, portable scanning devices and PDA accessories.
Specific brands which are distributed by Widget include TomTom GPS range Etymotic's ER-6and ER-4 earphones, CardScan, Think Outside Stowaway and BoomTube, Covertec cases, Ziplinq's retracting cable range and Dialogue's Flybook
All products are listed on the company's website at http://www.widget.co.uk
Fossil, the Fossil logo, Caller ID Wristwatch, ABACUS, and MobileWear are trademarks of Fossil, Inc.
The Bluetooth® word mark and logos are owned by the Bluetooth SIG, Inc. and any use of such marks by Fossil are under license. Other trademarks and trade names are those of their respective owners.
###