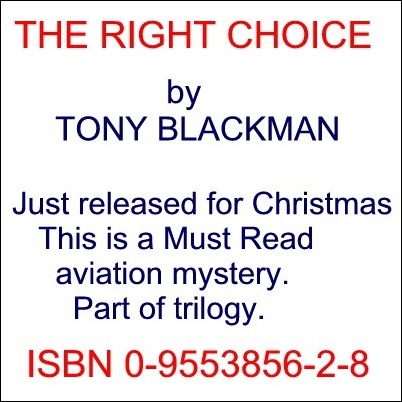 Southampton, England (PRWEB) October 19, 2006
Tony Blackman has released a third book, "The Right Choice," in his series of modern aviation mystery thrillers featuring the same aviation detective and expert, Peter Talbert and his lawyer girl friend Mandy. Peter goes out to the Philippines to advise an insurance company, Hull Claims, on the efficiency of a local airline and finds himself in the middle of a cut throat competition between two aircraft manufacturers trying to sell a new aircraft to the airline. Such competitions are renowned for being ruthless with no holds barred and this one is no exception. Despite all his efforts to avoid it, Peter finds himself as a key player in the selection process, flying into the marginal airfields with the demonstration pilots, one of whom is an attractive female captain who apparently has taken a fancy to him. Peter wonders if this is yet another of the tricks that are being used, some illegal, in order to influence the decision makers in selecting the aircraft and he gets brutally attacked for interfering.
A few weeks later one of the demonstration planes crashes on a critical airfield on the side of a volcano, killing many key airline executives. The aircraft is insured by Hull Claims and Peter tries to look after its interests by finding out what had happened. As he realises that the accident is not just a straightforward one due to pilot error, but that the pressure of the competition has caused criminal malpractices, he is very nearly killed and only his extreme resourcefulness enables him to keep alive.
This story is full of action and excitement but it also manages to explain and describe in easy stages how an aircraft can operate safely into critical airfields. Only Tony Blackman's insight and experience has made it possible for such an authentic aviation mystery thriller to have been written. This is a book that no one will want to put down, be they aviation experts or just lovers of thrillers.
# # #