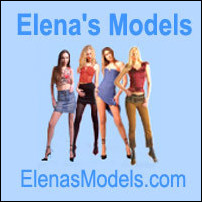 Many people meet someone very quickly, within a few weeks, but we also have some users that use the site for many years. It's just your luck
Gold Coast, Australia (PRWEB) October 12, 2006 –
Selling diets must be hard in Russia if you look at the figures presented by Elena's Models, the dating agency introducing Russian women seeking serious relationships and marriage with western men. More than 95 percent of their female members are of normal or skinny built, with more than 20 percent being officially underweight.
A survey of body mass index among Elena's Models members revealed that 3.7% of Russian women on the site would fit the profile of anorexic (dangerously thin), while further 17.2% would be considered underweight. 74.7% of females are of normal built (nor underweight, neither overweight), with further 2.4% fitting the profile of "slightly overweight". Only 2% of women presented on the Russian dating site were overweight.
According to Elena Petrova, the owner of Elena's Models, the fact that Russian women are seldom overweight was one of the reasons she has chosen this name for her dating site back in 1999. "Men kept telling me I looked like a model but I was just a regular girl in Russia. I was never considered very beautiful. When I showed them photos of my friends, they were telling me they looked like models, too! This is why I chose this name, Elena's Models, for the dating site for Russian women seeking marriage."
The name has proven to be a hit with men who join in thousands every month to chat with pretty girls from Eastern Europe. According to Petrova, the dating agency approves on average 5,000 new profiles a month. "Many people meet someone very quickly, within a few weeks, but we also have some users that use the site for many years. It's just your luck," laughs 38-year old mother of two who still looks like she could model swimwear. In fact, she is using many of her own photos on the agency banners. "Girls get married and then they want to remove their photos from the Net. I just used a few of my recent pics, and I know I don't have to remove them in a hurry. It's my agency, after all."
Elena's Models (Russian women of model quality) is an introduction service providing a safe environment for Russian-speaking and Eastern European women to meet western men with the intention of future marriage. The dating agency has more than 81,000 registered users from 176 countries, and assists people around the globe since 1999.
###