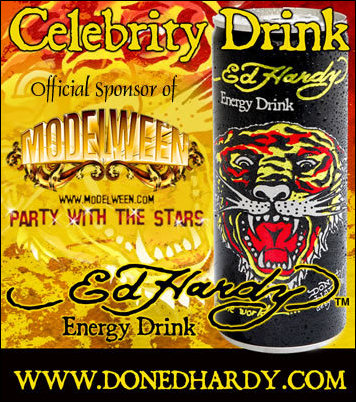 Ed Hardy Energy Drink is the perfect beverage for the Ones We Love
Hollywood (PRWEB) October 16, 2006
Ones We Love (OWL), in a closed door meeting on Friday, reached an agreement with Ed Hardy Energy Drink to be the Official energy drink for Modelween presented by One Model Place. Modelween is the event where hundreds of models come out to celebrate Halloween. The events are scheduled later this month in Miami, Hollywood, Chicago, Houston and New York. The relationship with Ed Hardy Energy Drink is one that enhances Modelween's already impressive guest list of models and famous photographers with some of America's most notable A-List celebrities.
In addition to the beverage being available to guests at Modelween, highlights of the sponsorship include Ed Hardy Energy Drink inviting their A-Listers and close friends to Modelween, supplying each event with an assortment of Ed Hardy custom hats for prizes and giveaways and over 1,000 Ed Hardy bags to be used for the VIP Gift Bags.
"The Ed Hardy Energy Drink relationship is one that just makes sense." comments Owen Gonzales CEO – Ones We Love. It was when someone in the meeting said, "Ed Hardy Energy Drink is the perfect beverage for the Ones We Love" that made the deal easy to consummate.
This sponsorship is perfect for Modelween because of the many celebrity relationships of Ed Hardy and that Modelween is being billed as the "Party with the Stars" event. Celebrities like Madonna, David Bingham, Bobby Brown, Kevin Federline and Vince Neal are just a few of the faces on the latest banner promoting the Ed Hardy Energy Drink.
Earlier in the month OWL secured Fright Catalog, Couture Candy and LASplash as key sponsors of Modelween. Their contributions have made a major impact on the event.
Couture Candy is the Official Candy of Modelween. OWL came up with the slogan, "Models don't want Halloween Candy, they want Couture Candy" and presented it to executives from Couture Candy. When they heard it, they were more than excited to be a sponsor of Modelween. Fright Catalog is the Official Costumes and Decorations Sponsor of Modelween. Media sponsor, LA Splash Magazine will be on site to report on the events and search for candidates for their Fresh Faces column.
Travel bookings to any Modelween city can be arranged by WantTravel, the Official Travel company of Modelween.Advance tickets are on sale and VIP Tickets that include gift bags, express entry, complimentary appetizers and upfront viewing of the costume contest are almost sold out. To purchase tickets or to get more information on dates, times and locations visit: http://www.Modelween.com.
Companies interested in sponsorships of Modelween and other Halloween events hosted by OWL should contact the Ones We Love offices at 800-893-9932.
# # #