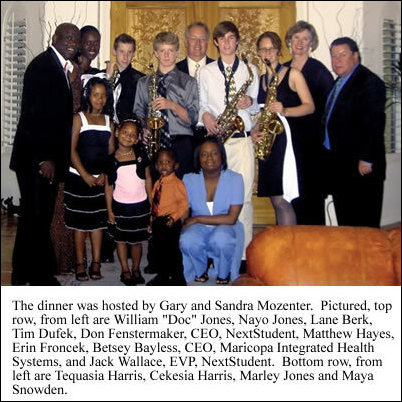 With Music on Their Minds, There's No Time for Crime©
Phoenix, AZ (PRWEB) October 17, 2006
Students of the NextStudent Academy for the Arts, a grass-roots 501(c)(3) organization supported by Phoenix-based NextStudent Inc., recently hosted a fundraising dinner at the Scottsdale home of Gary and Sandra Mozenter that raised more than $29,000 to fund the music program for K-12 Valley students.
NextStudent Academy for the Arts encourages Phoenix youth to stay in school through high school graduation and to continue on to college. Under the leadership of Doc Jones, Executive Director, the Academy provides musical instruction both on site as well as through its outreach programs at various schools. With its motto, "With Music on Their Minds, There's No Time for Crime©," the Academy currently works with 100 students at 10 schools and community sites in Phoenix. The Academy stands strong in its mission and is in concert with the U.S. Department of Education's initiative of "No Child Left Behind."
More than 120 people dined and were entertained by music students from the Academy as well as the Doc Jones band featuring vocalist Nayo. Arizona State Superintendent of Public Instruction Tom Horne, former Arizona Secretary of State Betsey Bayliss, NextStudent CEO Don Fenstermaker, and EVP Jack Wallace all addressed the assembled students, parents, friends of the Academy and corporate sponsors. NextStudent was among the corporate sponsors that also included American Student Loan, Deutsche Bank Securities, First Marblehead Corp., and GCO Educational Loan Funding Corp. The money raised will be used to increase the number of scholarships for "at risk" students.
NextStudent Academy's next event will be a fundraising concert on Saturday, Nov. 18, 2006 at 7:30 p.m. at the Scottsdale Center for the Arts, featuring performances by the students of NextStudent Academy along with Doc Jones' band featuring Nayo as the vocalist. Special guest Jesse McGuire also will perform. For corporate sponsorship donations, please contact Jack Wallace at NextStudent Inc. at (623) 879-5014.
For ticket information call NSAA at (602) 234-0775, or the Scottsdale Center for the Performing Arts at (480) 994-2787, press 2 when prompted.
About NextStudent
NextStudent, http://www.nextstudent.com/ , federal lender code 834051, is dedicated to helping students and their families find affordable ways to pay for college. NextStudent offers one-on-one education finance counseling and has a portfolio of highly competitive education finance products and services including a free online scholarship search engine, federally guaranteed parent and student loans, private student loans , both federal and private student loan consolidation programs, and college savings plans.
The NextStudent Scholarship Search Engine, one of the nation's oldest and largest scholarship search engines, is updated daily, available free of charge, completely private – and represents 2.4 million scholarships worth $3.4 billion.
For more information about NextStudent and its student loan programs, please visit the company's Web site at http://www.nextstudent.com/.
Contacts:
NextStudent Inc.
John F. (Jack) Wallace III
Executive Vice President
(623) 879-5014
# # #