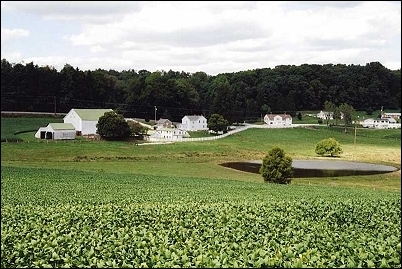 The family has a lot of emotional attachment, but they are motivated to find new owners who will love the property as much as their father did.
Glen Rock, PA (PRWEB) October 25, 2006 –-
Located near Glen Rock, Pennsylvania, the famous Pine Shade Farm will hit the auction block on Nov. 14, according to Leonard Hartsook of The Redfield Group.
"it's one of the most beautiful farms I've ever seen, not only in York County, but around the country," said Hartsook.
Only 30 minutes from northern Baltimore, nestled into the gently rolling countryside of York County, Pine Shade Farm's 105 acres is like a picture postcard of Southern Pennsylvania farm country.
Roy Gladfelter, Sr., purchased the property in 1943, spending most of his life farming the land and raising a family of four. Pine Shade Farm's 105 rolling acres includes 80 acres of row crops, pasture, woods, a two-acre pond and 1.6 miles of road frontage. Abundant wildlife, including white tail deer, dove and quail, also grace the property.
"This is an estate auction," emphasized Hartsook. "The family has a lot of emotional attachment, but they are motivated to find new owners who will love the property as much as their father did."
Included in the sale are four income-producing rental properties -- a lovely historic stone home built in 1760 by the original family that settled the property, a large home subdivided into two rental units, and a mobile home – which bring in $27,400 annually. The property also features a two-story barn built in 1879, a wagon shed, farrowing shed, and a chicken house-garage, all wired with electricity. In addition, the farm boasts two deeded springs, one with a spring house, which provide ample water for all structures on the property.
"If you look around this part of Pennsylvania, you see a lot of agricultural properties that have been converted into beautiful estates," Hartsook noted. "Pine Shade Farm would be perfect for the northern Baltimore business executive who wants to enjoy suburban living. This property offers plenty of room for an estate and leisure activities."
Most of the property has been fenced and cross-fenced, with the row crop acreage being contoured for maximum water distribution. The cropland is currently planted in soybeans and leased at $75 per acre, generating $6,000 annually; however, it could be farmed to generate more of a cash commodity.
Also being sold separately at auction is a beautiful home on 1.1 acres that lend spectacular views of the farm's pastures, crops, lake and outbuildings. The 3,400 square foot, two-story home features three bedrooms, 1 bathroom, sunroom and two-car garage, It also has a 30'x20' room zoned for limited commercial use which has operated in that capacity since 1954. The home is sturdy with concrete foundation and solid oak construction.
The property will be available for preview Nov. 7 through 14, 10am to 5pm daily, with an agent on-site. The auction is set for 4pm on Nov. 14. For more information, call The Redfield Group toll-free at (866) 673-9270 or visit redfieldgroup.com to download an auction packet.
York County, Pennsylvania
York County (population 339,574) was created on August 19, 1749, from part of Lancaster County and named either for the Duke of York, an early patron of the Penn Family, or for the city and shire of York in England. York, the county seat, was laid out in 1741, incorporated as a borough on September 24, 1787, and chartered as a city on January 11, 1887. With more than 250 years of tradition, historic York County blends charming local customs with the beauty of one of Pennsylvania's richest farm regions. The county, nestled in the rolling farmlands of south central Pennsylvania, offers activities for every interest, from golf and museums to cultural attractions and wineries, factory tours to great shopping for antiques, hand-made crafts and fantastic bargains.
About The Redfield Group
Based in Rainbow City, Alabama, The Redfield Group, Inc., is one of the nation's fastest growing high-end real estate auction firms. The Redfield Group is dedicated to offering services that meet the demand of today's market, and is committed to customer satisfaction.
Founder Mike Fisher has served as President and Chief Executive Officer since the inception of The Redfield Group. He has assembled a team of the most experienced high-end real estate professionals in the auction industry. This team has been involved in more than 1,000 auctions and has sales approaching $1 billion. Their past client list reads like a "Who's Who" of America's most respected business, entertainment and athletic professionals. Fisher has been active with auctions for over seven years and has been involved in the selling of some of the most exclusive real estate in the United States and the Bahamas.
Published by ASMarketingCenter.com a division of http://www.auctionservices.com and the http://www.nationalauctionlist.com.
Contact Information:
The Redfield Group, Inc.
2810 Rainbow Drive
Rainbow City, Alabama 35906
Phone: 256-413-0555
Toll-Free: 866-673-9270
Fax: 256-413-0552
Web: http://www.redfieldgroup.com
###