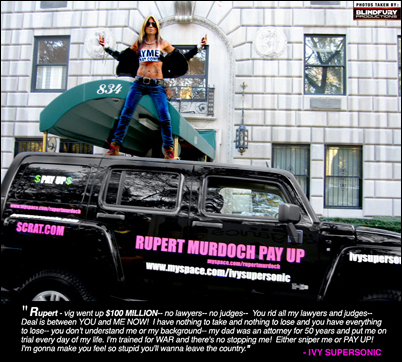 My dad was an attorney for 50 years and put me on trial every day of my life - I'm trained for the long-term
New York, NY (PRWEB) November 10, 2006
Like a fictional character she claims to have created (Sqrat aka Scrat), Ivy Supersonic's antics and campaign against Rupert Murdoch cause noise wherever she goes - and at tonight's (4 Time Heavyweight Champion) Evander Holyfield vs. Fres Oquendo aka Fast Fres boxing event on Pay for View first boxing match ever to be on FOX, she promises more of the same.
On Monday, November 6, 2006, Supersonic took her campaign to Rupert Murdoch's Fifth Avenue apartment, where shaken doormen locked the door and had her leave her eight foot by ten foot campaign posters "Fox Stole Ivy's Sqrat" and "Pay Up" in front of the door - which they promptly opened and brought inside. "With literally one dollar in my wallet and zero balance left on my seven credit cards, I come in at featherweight - 97 pounds. As I drive this great big hummer around NYC that reads ' Rupert Murdoch Pay Up,' witnesses honk and cheer and ask for autographs on my campaign cards - everywhere I go, people react. Call me Super Psycho if you want - I'm a woman warrior."
Lou Dibella, the former SVP of Programming for HBO has said, "Ivy Supersonic is oSVP of Sportsne of the most resourceful people in all of NYC." Like her lawyer father, Supersonic is intensely methodical in thought, and she is extremely calculated. In December '05, Ivy Supersonic undertook a campaign against Fox and obviously hasn't quit.
A series of common events seem unconnected - until a more close examination and a pattern is revealed.
Supersonic's attorneys were recently permitted to withdraw from her copyright case related to her Ice Age Scrat (Case # 04401 Court of Appeals, Second Circuit, NYC) due to conflict of interest - just two days before oral argument before the second circuit court.
Daughter of well-respected 50-year trial attorney Jerome D. Silberstein, Supersonic has some inside knowledge of the meaning of the word bias. As usual, Supersonic's judges and attorneys seem to disappear - one by one - for conflict or no clear justifiable reason.
As a result, she put on her war paint and went to battle with 17 tattoos on her body and justice across her chest, calling the campaign "Mama's Got My Back." She took her tattoo campaign and used all her mother's money left to her to fight Fox, hiring airplanes to fly 100-foot banners on top of Fox in L.A., Vivendi Universal, the Oscars, Ice Age 2 Premiere and the Grammys.
"My dad was an attorney for 50 years and put me on trial every day of my life - I'm trained for the long-term," said Supersonic. Before her campaign was aimed at Fox, she responded to letters threatening counter-suit to the tune of $1.5 million from Murdoch's Loeb and Loeb attorney, Jonathan Zavin. "I was Jerry Silberstein's worst nightmare and now I'm your's - I can do anything BUT cook, clean, and spell well."
On Sunday, November 5, Supersonic made a pitstop at graffiti artist and legend Tattoo Seen's - who Donna Karen hired for her ad campaign - to get a tattoo for her father, placing it alongside the one for her mother. "Now, both got my back." She later crashed Nicole Kidman's and Robert Downey Jr.'s movie premiere - a Special Screening Of "Fur: An Imaginary Portrait Of Diane Arbus" at the Chelsea Cinemas on 23rd Street. As the guests began to arrive, the photographers and security guards placed her on top of her "Rupert Murdoch Pay Up" Hummer, and she made a scene campaigning against Murdoch in a t-shirt which read "Rupert Murdoch Pay Up" and her "jackpot" panties. "The public's seen it before - I've gone from wearing many hats to wearing many panties."
On Tuesday, November 7, Supersonic moved her Hummer campaign to a taping for Sirius Radio hosted by Sal the Stockbroker of the Howard Stern to air on Howard TV - the scene Supersonic caused outside the venue is available at her Web site
On November 8, 2006, Supersonic appeared as Model of the Week in Chaunce Hayden's Steppin' Out magazine.
View here click on link: http://www.so-mag.com/steppinoutmag/onlinemag/110806/pages/p080.html
-Article by attorney Marisa kakoulas DiMattia on Needled.com''s website about Supersonic modeling
for Chris Noth and Steve Walter's Cutting Room new clothing line and scrat lawsuit at this link:
http://www.needled.com/archives/2006/11/cutting_room_clothing.php
Supersonic worked out with celebrity boxing trainer/owner Martin Snow at 100 year-old Trinity Boxing Club at 110 Greenwich St. "Snow grew up with promoter Dibella who is promoting Fres Oquendo aka Fast Fres from Chicago. "Fres is fighting 'The Real Deal' Holyfield today, which is where I'll be - so it gives Rupert a few days to think."
View here click on link: http://www.ivysupersonic.com/gallery/album06
"Someone's going down at the Alamo dome in San Antonio, airing on Fox Pay Per View."
Supersonic's been interviewed by the likes of Michael Marley, formerly of the NY Post, about her Hats and SQRATS (SCRATS). View link: http://ivysupersonic.com/gallery/album02
Sometime boxer, sometime public access show producer - always pursued by the stars for the uniquely creative hats she designs, Supersonic is in the process of working on her own reality show with producer Stacie Nice of the Dr. Keith Ablow Show.
"Rupert Murdoch's conglomerate purchased My Space for over half a billion dollars and I have taken my campaign to him and my MySpace space."
Ivy can be reached at ivsupersonic @ earthlink.net or at 212.780.3329.
View Ivy Supersonic's girls in the ring and Larry holmes in feathered hat:
http://www.ivysupersonic.com/gallery/Press?page=6 and
SHANNON BRIGGS, who took the Heavy Weight World Boxing Championship, NOVEMBER 4, 2006. VIEW "THE PAY UP" PHOTOS WITH IVY SUPERSONIC & BRIGGS AT THIS LINK: http://ivysupersonic.com/gallery/album07
Youtube search for Ivy Supersonic will blow your mind!
SOURCE: Ivy Supersonic
###