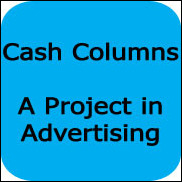 Bloomsburg, PA (PRWEB) November 6, 2006
Cash Columns is a new advertising project that allows everyone from bloggers to online businesses to promote their website, and make a return on the investment. This experiment in online marketing is being developed by Computer Science student Brian Mears. All funds made from this project will go towards advertiser payouts, and Mears' university schooling costs.
The concept of this project is very simple, but a bit hard to explain without seeing it firsthand. There are 8 columns of advertising spaces, starting out at $1 per ad. When someone buys the first ad in that column, the price doubles. When a second person buys an ad in the column for $2, the first person is refunded, and the price of that column doubles again to $4. A third advertisement in that row would give the second person a refund, and the first person a second refund. The price for a fourth advertisement in the column would increase to $8, and so on. The first person in that column would now have double their money back and the ad continues to stay, no matter how many more are placed.
All ads placed on Cash Columns are guaranteed to stay up for a minimum of 5 years. Traffic is brought into the site via blogs, media, backlinks, search engines, and paid advertisements. This insures that customers of Cash Columns continue to receive traffic, and that new prospects for buying advertisements are obtained. Cash Columns cannot guarantee that money will be made, only that it is a high possibility. The main feature is the virally spreading advertisement space, the possibility of a return on your investment is only an added bonus.
Cash Columns is reminiscent of the million dollar homepage, known for selling over one million dollars in pixel advertising space, but the concept is different. Instead of selling pixel ads which cost a minimum of $1000 for a decent space and have no investment value, Cash Columns can make advertisers money. Not only is there the ability to make 200% back on what the original payment for the space, but all ads will still stay in place receiving traffic for years to come, promising the possibility of long term website exposure and sales.
Media coverage and high PR will also help Cash Columns become a success. As people buy advertisements and receive money from their investment, they will tend to tell other people, blogging about their success with the project and causing others to give it a try. This is the viral marketing that will ultimately make it a success.
The spaces on Cash Columns are still at a very affordable starting price, which will attract many people to try it out and bringing prices up. Eventually, prices will go high enough that it will be unaffordable to most people, but a new idea to counter this is underway and will be released when necessary.
All advertisers on Cash Columns are encouraged to review and release longterm findings to the general online public. This project will not only be a useful marketing tool, but will also help provide detailed results in viral advertising.
###