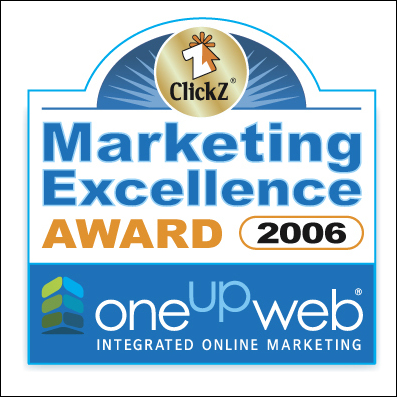 Every year, our competition for this award grows in number and knowledge
Lake Leelanau, MI (PRWEB) November 15, 2006
Oneupweb is the Best Search Engine Marketing Vendor, according to the results of ClickZ.com's Marketing Excellence Awards 2006 released today. The ClickZ Marketing Excellence Awards recognize the technologies, companies and campaigns that made a positive difference in the online marketing industry in 2005, moving the industry forward by providing brilliant examples of what can be accomplished. Winners and finalists were nominated and selected by ClickZ readers and editors in online voting. Oneupweb, a leading national search engine optimization (SEO), paid search marketing (SEM) and podcasting firm, has set an industry record with three wins and four nominations in four years.
"Every year, our competition for this award grows in number and knowledge," explains Oneupweb CEO, Lisa Wehr. "Being in search marketing already means you're on the cutting edge. Leading our industry requires more than visibility; we have to deliver on our reputation because there are hundreds, if not thousands, of competitors trying to take our place." No other search engine marketing finalist for the ClickZ Marketing Excellence award has been nominated as many times as Oneupweb, giving a clear indication of Oneupweb's ability to consistently stay ahead.
Wehr credits her team with three critical characteristics that propel its ongoing success: innovation, collaboration and perception. Oneupweb has developed advanced technology that allows its managers to focus on client strategy. Proprietary tools include ROI Trax® marketing analytics, ONESource™ paid management technology and the recent, breakthrough podcast tracking technology, PodTractor™. The company's flat structure and flowing facilities encourage communication and collaboration across all departments. And, Oneupweb trains project managers to think like its clients and apply every effort against a focused, tailored strategic plan based on client objectives.
Additional accomplishments over the same timeframe include:
First to invent podcast analytics that can track individual iTunes subscriber behavior 2006
First to provide optimization insight on podcasting--Principles of Optimizing Podcasts (also presented at eCom eXpo, Oct. 2006)--and the first to offer SEO and SEM papers via podcasts
First to launch technology simplifying submissions to Google Sitemaps--LiveWire XML™ 2005
First industry leader to provide trademark infringement and click fraud detection--ROI trax tools 2005
First to provide ongoing search engine behavior research and public relations optimization services -- eyeGroups™, PReach™ 2005
First to provide marketing insight on mobile search--Mobile Search & Its Implications for Marketing (white paper) 2005
"Repeatedly, clients tell me that our team gets more out of an hour than anyone they work with," says Wehr. "And that's our goal: satisfied, successful clients. I believe that our team truly sees things from the client's perspective and they never quit looking for improvements. That Oneupweb passion, commitment and high-touch level of service--that's what makes me proudest. And that's what keeps us ahead."
About ClickZ/ Incisive
Incisive Media, parent to the ClickZ Network, is a fast growing specialist business information provider operating in eight core markets, financial risk management, retail investment, insurance, mortgage , capital markets/financial IT, marketing, photographic and Private Equity. The Group delivers key information to defined target audiences across a variety of platforms including magazines, conferences and exhibitions, websites, newsletters, contract publishing and databases. ClickZ has a mission to help interactive marketers do their jobs better. The ClickZ Network is the largest resource of interactive marketing news, information, commentary, advice, opinion, research, and reference in the world, online or off-. From search to e-mail, technology to trends. The coverage is expert, exclusive and in-depth.
About Oneupweb
Oneupweb has been an innovator in online marketing for more than a decade, creating integrated online marketing plans that include natural search engine optimization, paid search marketing, podcast production, online market research, marketing analytics and more. An award-winning firm, Oneupweb was named a 2006 Michigan Top 50 Company to Watch and is the only two-time winner of the prestigious ClickZ Best Search Engine Marketing Vendor Award. CEO, Lisa Wehr, an Ernst & Young Entrepreneur of the Year, has been named to BtoB Magazine's Who's Who List three years and is recognized as a Leader & Innovator by Lawrence Technological University. The company publishes an SEO / SEM newsletter OnlineMarketingBrief.com and a blog and weekly podcast named StraightUpSearch.com. Oneupweb is a privately held company located in Michigan. For more information on Oneupweb, please contact 231.256.9811 or visit Oneupweb.com.
###