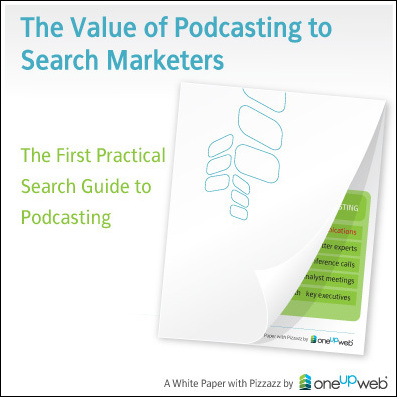 Our industry hasn't even scratched the surface
Lake Leelanau, MI (PRWEB) December 5, 2006
Lisa Wehr, CEO of Oneupweb, the online search marketing and corporate podcasting leader, today released The Value of Podcasting for Search Marketers, the first white paper to address the connection between Search Engine Optimization/Search Engine Marketing (SEO/SEM) and corporate podcasting. The free white paper is available in the Library of Oneupweb.com.
"As a leader in online search marketing and the only major SEO/SEM firm that offers podcast production, tracking and marketing services, we believe it's important to raise awareness in our industry of how search marketing campaigns can incorporate podcasting for even greater effectiveness," says Lisa Wehr. "While many of the same search principles and best practices apply, there are some vital differences. Plus our paper outlines opportunities for both natural optimization and paid search campaign strategies."
First, few podcasts are optimized, missing the opportunity to be properly indexed in podcast directories and search engines. Additionally, search engine results linking to podcast XML feeds need user-friendly webpage designs that help the audience know what to do to access the podcasts. Podcasts also represent an opportunity to increase an organization's content and inbound links. The Value of Podcasting for Search Marketers describes how various corporate departments can use podcasting to build more website content from current webpages and materials. And discusses how podcast production values (voice, music, video) can enliven a brand personality, attracting inbound links and encouraging listeners to become brand advocates through the viral nature of podcast file-sharing.
Secondly, podcasts also improve paid search activities, helping to attract and qualify customers, build customer relationships and mange marketing efforts. Podcast downloads, the paper stresses, are a popular means of inducing a paid click-through, engaging potential customers and keeping prospects connected to the company after the click. The on-demand nature of podcasting extends the impact of paid advertising without adding to the cost.
Finally, this new white paper looks at what Oneupweb's growing podcast tracking database can tell search marketers about consumer behavior and how to structure podcast content, timing and placement for the greatest effectiveness.
"Our industry hasn't even scratched the surface," notes Lisa Wehr. "Clearly anyone who is engaged in search marketing can profit from reading the paper. And we hope it generates discussion at next week's Search Engine Strategies conference in Chicago." Oneupweb will be offering disks of the paper at its booth #213.
For more information about podcasting and its marketing potential visit PodGarden.com, a site which describes the full range of podcasting resources and services available through Oneupweb. You can access a complete listing of white papers and podcasts available free of charge in the Oneupweb library at Oneupweb.com.
About Oneupweb
Oneupweb has been an innovator in online marketing for more than a decade, creating integrated online marketing plans that include natural search engine optimization, paid search marketing, podcast production, online market research, marketing analytics and more. An award-winning firm, Oneupweb was named a 2006 Michigan Top 50 Company to Watch and is the only three-time winner of the prestigious ClickZ Best Search Engine Marketing Vendor Award. CEO, Lisa Wehr, an Ernst & Young Entrepreneur of the Year, has been named to BtoB Magazine's Who's Who List three years and is recognized as a Leader & Innovator by Lawrence Technological University. The company publishes an SEO / SEM newsletter OnlineMarketingBrief.com and a blog and weekly podcast named StraightUpSearch.com. Oneupweb is a privately held company located in Michigan. For more information on Oneupweb, please contact 231.256.9811 or visit Oneupweb.com.
###