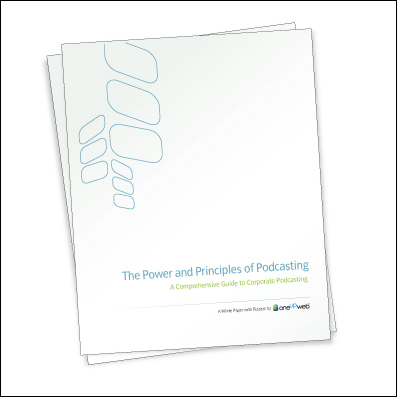 LAKE LEELANAU, MI (PRWEB) December 6, 2006
Lisa Wehr, CEO of Oneupweb, the online marketing and corporate podcast leader, today released The Power and Principles of Podcasting, a white paper that combines and updates the company's two most popular white papers on corporate podcasting, Corporate Podcasting 101, and Consider Podcasting. The first of the two papers is the industry's most comprehensive work on the essentials of podcasting and the latter is a marketers' guide to the applications and advantages of the medium. Oneupweb's free online marketing white papers are available in the Library at Oneupweb.com.
"We've done this for the convenience of the many people who are choosing to download both papers," says Wehr. "It also gives us the opportunity to update the body of research documenting the remarkable growth of corporate podcasting."
Recently, Pew Research updated podcast download statistics collected as part of their ongoing Pew Internet & American Life Project. In its February-April study they found that 7 percent of internet users had downloaded a podcast. An August update of these statistics showed that the number had grown to 12 percent, a 71 percent increase in less than six months. Oneupweb's new white paper, The Power and Principles of Podcasting incorporates these latest data.
Corporate podcasting represents new opportunities for businesses to reach a growing market. Podcasts are portable, personal and an increasingly popular way for business to begin a dialog with customers and stakeholders. Audiences are offered the convenience of downloading now and listening later - at the gym, in the car, on the train - whenever and wherever they choose. And with the recent introduction of PodTractor™ podcast tracking by Oneupweb, podcasters can now accurately assess the return on their investment in this new media.
"The Power and Principles of Podcasting is a one-stop resource for marketers who are considering podcasting," says Wehr. "This marketing medium is growing rapidly and we are committed to remain at the forefront. We will continue to update and refine our growing library to help new and existing podcasters. As trends develop we'll also be sharing data collected from our tracking of subscriber behavior." The new white paper covers:
What podcasting is

Its marketing value
How podcasts are used
Terminology
Integrating podcasts into a marketing program
The competitive marketplace by keyword
The past, present & future of podcasting
Prerecording tips
How podcasts work
Podcasting sourcing options
Best practices
A list of necessary skills
And more…
For more information about podcasting and its marketing potential visit PodGarden.com, a site which describes the full range of podcasting resources and services available through Oneupweb. You can access a complete listing of white papers and podcasts available free of charge in the Oneupweb library at Oneupweb.com.
About Oneupweb
Oneupweb has been an innovator in online marketing for more than a decade, creating integrated online marketing plans that include natural search engine optimization, paid search marketing, podcast production, online market research, marketing analytics and more. An award-winning firm, Oneupweb was named a 2006 Michigan Top 50 Company to Watch and is the only three-time winner of the prestigious ClickZ Best Search Engine Marketing Vendor Award. CEO, Lisa Wehr, an Ernst & Young Entrepreneur of the Year, has been named to BtoB Magazine's Who's Who List three years and is recognized as a Leader & Innovator by Lawrence Technological University. The company publishes an SEO / SEM newsletter OnlineMarketingBrief.com and a blog and weekly podcast named StraightUpSearch.com. Oneupweb is a privately held company located in Michigan. For more information on Oneupweb, please contact 231.256.9811 or visit Oneupweb.com.
###