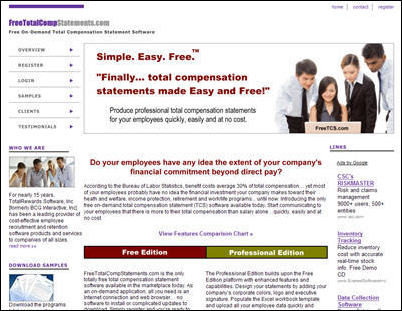 ROCKLIN, CA (PRWEB) December 4, 2006
Small- and medium-sized employers can now create total compensation statements for all their employees easily and at no-cost, with the launch today of FreeTotalCompStatements.com (http://www.FreeTCS.com) -- the first free, on-demand total compensation statement software.
FreeTCS.com is an advertising-supported, on-demand application that allows employers to produce high-impact, personalized, total compensation statements that communicate to employees that there is more to their total compensation than direct pay.
"With the Bureau of Labor Statistics recently reporting that benefits make up 30 percent of total compensation, it's no longer a luxury to show employees the value of their benefits program and the impact it has on their total compensation – it's now a necessity," said Ray O'Donnell, President of TotalRewards Software, Inc. parent company of FreeTCS.com. "Promoting the value of total compensation results in improved employee morale, increased employee productivity and the retention of top employee talent. Additionally, in this era of benefits cost-sharing, communicating a company's benefits investment can lead to less resistance by employees towards any current or future cost sharing arrangements."
A premium, advertisement-free subscription is also available – featuring the ability to upload employee data via an Excel template, company branding through the Style Editor, additional cash compensation and benefit programs, as well as a free, multi-page online total compensation statement (the Enterprise Edition). Professional implementation and data management services are also available. The premium subscription starts at $50 a month per company.
As an on-demand application, FreeTotalCompStatements.com, is available 24 hours a day, seven days a week and from any location. All employers need to get started is an Internet connection and web browser -- there is no software to install or complicated updates to download.
About FreeTotalCompStatements.com
FreeTotalCompStatements.com is a service operated by TotalRewards Software, Inc., a private company founded in 1991 by business and technology professionals with a mission to deliver high quality, cost-effective, total compensation software solutions to the millions of small and medium sized employers in North America.
Media Contact:
Ray O'Donnell, Total Rewards Software
(916) 632-1000 x202
This press release was distributed through eMediaWire by Human Resources Marketer (HR Marketer: http://www.HRmarketer.com) on behalf of the company listed above.
###