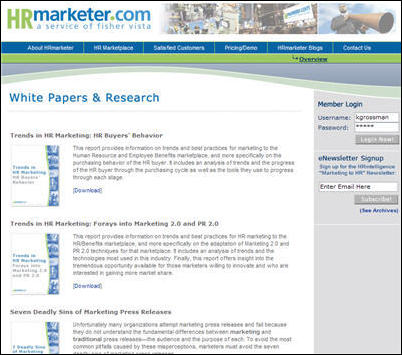 Capitola, CA (PRWEB) December 5, 2006
HRmarketer, the #1 Internet marketing and media visibility service for companies selling to human resource departments and/or targeting employee benefit brokers and consultants, has begun gathering responses to its Marketing Trends Survey. HRmarketer is asking HR marketing professionals to join the respondents of this final quarterly study in 2006.
The Marketing Trends Survey is the first step in producing the final HR market research report. For each of their trends reports, HRmarketer creates a survey that is completed by executives, managers and staff from a variety of HR/Benefits companies.
The previous three reports of 2006 cover topic ranging from search engine optimization (SEO) to increasing Internet use in marketing and PR to purchasing behaviors.
"The feedback from the HR vendor community on our reports has been quite positive. For many marketing professionals seeking to re-energize and re-focus their corporate marketing efforts, these reports provide welcome and credible validation in support their marketing plans and have actually helped define and prioritize marketing budgets and expenditures. These reports helped solidify the marketing approach for many vendors." said Jonathan Goodman, VP of Membership Development for HRmarketer.com
The first report of the year touched on basic trends that have now become standard. It was discovered that the most important objective for most HR/Benefits marketers' are lead and demand generation. It was also found that online marketing activities are becoming more common and even replacing traditional marketing activities like participating in trade shows.
The second report focused on Marketing 2.0 and PR 2.0 tactics; it was apparent that the two are becoming increasingly relevant to B2B marketers. Another growing trend is PR's transition from an independent entity to an integrated component of marketing. It is evident that online lead generation is underway with most HR suppliers.
In their most recent report, HRmarketer explored trends displayed by HR buyers. Primary among these is the increasing reliance on informal networks—most buyers go to trusted sources, such as professional peers, for purchasing decisions. This complete report also delves into the growing importance that buyers place on a vendor's online visibility. Print material is no longer paramount, unless it is a product review or a white paper.
For the final report in 2006, HRmarketer is now gathering responses to the Marketing Trends Survey.
Please click on any of the Marketing Trends Survey links in this release to participate and contribute to their line of trends reports.
About HRmarketer.com
HRmarketer.com is a service of Fisher Vista LLC, a marketing and information services firm focusing exclusively on the human capital industry. The company services over 300 human resource and employee benefit service providers, helping them generate publicity, website traffic, sales leads and improved SEO. HRmarketer brings you the latest information on industry leaders, the tools they use and how they use them. Founded in 2000, HRmarketer is used by recruitment and staffing, payroll, employee benefit, training and development, outsourcing and other human resource suppliers, as well as PR and marketing agencies. HRmarketer combines a database of marketing and PR opportunities with press release distribution, campaign management, business intelligence and advisory services. Learn more by visiting http://www.HRmarketer.com.
This press release was distributed through eMediawire by Human Resources Marketer (HR Marketer: http://www.HRmarketer.com) on behalf of the company listed above.
# # #