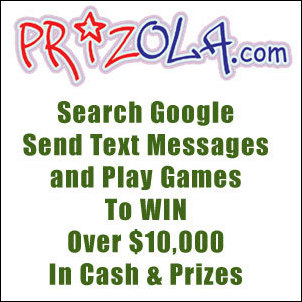 Prizola is going to revolutionize the sweepstakes industry with our frequency of prizes and unique selection processes
Tampa Bay, FL (PRWEB) December 5, 2006
Since the beginning of the internet, we have become accustomed to impractical endeavors. From web cameras to shopping online - every unrealistic vision has gradually turned into a reality. The most recent astonishing claim comes from a website that may soon be on the tip of everyone's tongues. http://www.Prizola.com, a prize portal website dedicated to giving prizes away every hour, is now one of the most talked about websites on the internet.
Based around the idea that you search Google to win, Prizola allows users a plethora of opportunities to generate prizes. By using the website to search Google for Internet results, you automatically will be entered into a daily sweepstakes drawing. If you are the lucky winner, a page will be displayed stating that you won. Currently, Prizola is in its Beta testing phase and open to the public. Surfers can win a 3-day/2-two night vacation getaway, Amazon.com gift certificates, Fandango Movie Passes and other prizes at randomly generated times every hour. For those seeking a new fortune or relaxing vacation, this may be the path to a lavish lifestyle.
"Prizola is going to revolutionize the sweepstakes industry with our frequency of prizes and unique selection processes," says founder Maurice Evans, a Business Coach and serial entrepreneur.
While there are dozens of websites falsely claiming to offer cars and cash to users, Prizola.com is adamant in keeping their promise. At present, they are the first website that actually allows users to additionally win via text messaging. What's the catch? As long as they use the text messaging application on Prizola.com, users can text their friends up to five times a day, thus securing a chance at winning. Furthermore, if they win a prize, their friend who they messaged will also win the same item.
Prizola does not require any registration, application, signup or personal information, unless you win, and then only your mailing information is needed to send your prize.
About Prizola
Prizola.com is a sweepstakes prize portal which offers visitors an opportunity to win free prizes through playing games, text messaging and searching via Google. The Prizola website delivers superior search results as well as provides great prizes to visitors; simultaneously building brand loyalty and generating repeat visitors. Learn more about Prizola, or find what you are searching for at http://www.Prizola.com
###