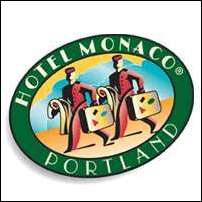 Rather than merely renovate, we are revitalizing this Portland landmark and taking it to the next level of luxury. Kimpton's Hotel Monaco Hotels are known for being more daring than predictable, more colorful than neutral, and each hotel is a different world in itself.
Portland, OR (PRWEB) December 7, 2006
On March 8, 2007, the 5th Avenue Suites Hotel will become Hotel Monaco Portland -- a momentous occasion marking the 10th anniversary of the ownership and operation of the landmark downtown Portland hotel by San Francisco-based Kimpton Hotels & Restaurants.
Hotel Monaco Portland will represent a comprehensive renovation of the 5th Avenue Suites Hotel and will offer a visually stunning hospitality experience complete with an array of the most current amenities including 32-inch flat screen plasma TV sets, DVD players and complimentary wireless Internet access. The new Hotel Monaco will continue the tradition begun by the 5th Avenue Suites with its commitment to supporting the local arts and performing arts scene in Portland.
"After 10 years, an old favorite is about to become new again," said 5th Avenue Suites General Manager Craig Thompson. "Rather than merely renovate, we are revitalizing this Portland landmark and taking it to the next level of luxury. Kimpton's Hotel Monaco Hotels are known for being more daring than predictable, more colorful than neutral, and each hotel is a different world in itself."
Kimpton operates Hotel Monaco properties in Seattle, San Francisco, Salt Lake City, Denver, Chicago and Washington, D.C. The Hotel Monaco Portland (http://www.monaco-portland.com/) will usher in the next generation of Hotel Monacos, including the Hotel Monaco Alexandria in Virginia, set to open in late spring of 2007.
"We are very pleased to add the Hotel Monaco Portland to our collection of other distinctive and whimsical Monaco Hotels," said Kimpton CEO and President Mike Depatie. "The downtown building is a piece of Portland's history that we are committed to sustaining, and even elevating. We are honoring Portland's unique past, while looking ahead at its promising future."
Hotel Monaco Portland will offer the same great guest care provided by the outstanding staff that has led 5th Avenue Suites to win many consecutive awards, including Condé Nast Traveler's 2005 Top 100 Best Hotels in the United States Readers' Choice Awards and listings in Travel + Leisure's 2005 and 2006 World's Best Hotels, Resorts, Lodges and Inns Award.
Each of Hotel Monaco Portland's 221 guest rooms -- four of which are grand suites, 135 are suites and 85 are deluxe rooms -- have been restyled and furnished with modern comfort features. In addition to DVD players and flat-panel plasma TVs, the amenities include complimentary high-speed wireless and hardwired Internet service, lighted cosmetic mirrors, high-thread count linens from Frette of Italy and nightly turndown service.
Customary in all rooms at the Hotel Monaco Portland is Kimpton's Mind.Body.Spa program, which includes an On-Demand television channel devoted to yoga, meditation, Pilates and core strengthening, as well as a wellness basket complete with yoga mat, block and strap for use during your stay (available upon request free of charge). In-room spa options including massages, facials, manicures and pedicures will also be available.
The Design Story
To lead the interiors redux, Kimpton hired internationally renowned Beverly Hills-based hospitality designer Cheryl Rowley. Drawing inspiration from Portland's popular public gardens, Rowley's team conceived of a design theme linked to Anglo-Chinois influences. Rowley's vision is artfully and eclectically executed throughout public areas and guest rooms of the 10-story registered historic building, originally home to department store Lipman & Wolfe Co.
Dramatic palettes of periwinkle, espresso and rich pink coupled with canopied chairs, decorative pieces and subtle garden references will captivate guests the moment they walk into the Hotel Monaco Portland.
"The goal," said designer Cheryl Rowley, "is to create the same sense of wonder that might accompany exploration of a well traveled eccentric's grand old home."
Longtime guest-friendly practices such as complimentary morning coffee and tea, complimentary Wi-Fi service throughout the hotel and hosted evening wine hour will continue under the flag of Hotel Monaco Portland.
ABOUT KIMPTON
Celebrating its 25th anniversary, San Francisco-based Kimpton Hotels & Restaurants is the first, leading and largest collection of boutique hotels throughout the United States and Canada. Founded by Bill Kimpton in 1981, Kimpton Hotels offers services and design elements focused on care, comfort, style, flavor and fun. Every Kimpton hotel reflects the energy, personality and pulse of its location, history and architectural style. Each property features personalized guest services, comforting in-room amenities, specialty rooms and suites and provides a range of exciting culinary experiences through affiliated top-rated restaurants. Kimpton takes pride in its commitment to social responsibility and leads the hospitality industry in ecological practices through its innovative EarthCare programs. In addition, Kimpton demonstrates a unique dedication to its female guests with the Women InTouch program, offering comfortable and safe environments, in-room fitness and wellness options as well as the company's unique "Forgot It, We've Got It" honor bar, providing essentials that women travelers may have forgotten at home. Among the company's newest properties are the recently acquired Muse Hotel in New York, Nine Zero Hotel in Boston, and Caleo Resort and Spa in Scottsdale. Kimpton debuted the Hotel Palomar in Washington, D.C. in July 2006, and Hotel Palomar Dallas in September 2006. Additional projects are underway in Southern California, Texas, Florida and Virginia. For more information, please visit http://www.Kimptonhotels.com or call 1-800-KIMPTON.
For Further Information Contact:
Lisa Donoughe
503-827-6564
Jamie Law
415-955-5495
# # #