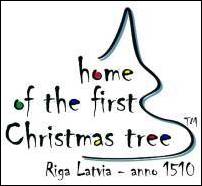 ... your friend in the Baltics!
(PRWEB) December 13, 2006
Patricia Tourist Office recently hosted Santa Claus who paid a visit to check the preparations for this years holiday activities in Riga Latvia.
On November 8, 2006, Patricia Tourist Office was granted a European Union Community Mark: "Home of the First Christmas Tree" (tm)
As you can not trademark a city or a place, the recently granted European Union Trademark is the basis for a tourism project based on the legend of the First Christmas Tree which took place in medieval Riga, Latvia in the year 1510.
There is some confusion in the news that the Riga Tree was created by Martin Luther. But they were two separate occurrences with the Riga tree coming about two decades earlier. Detailed recorded activities and events in the House of Blackheads Fraternity chronicles for the year 1510 are now housed in the Latvian State Archives.
According to Countess Maria Hubert von Staufer from Christmas Archives International, references to the Martin Luther tree were NOT the Riga tree. The Countess goes on to say that The Martin Luther walk in the forest, is believed to actually occur in Northern Germany and his lighted tree occurred several decades later than the Riga tree. (http://www.firstchristmastree.com)
A series of activities and tours are being planned to give the visitor a realistic feeling of what it was like in medieval Riga so many years ago. Of course this will be a combination of folklore, pagan and Christian traditions which has included a visit of modern day Santa Claus to assure that the preparations for Christmas are proceeding as planned.
Visitors may shop and enjoy the tastes of traditional Latvian food in the Riga Old City Christmas Market held in The square adjacent to Dome Church. (http://www.riga-christmasmarket.com)
This will be an exciting opportunity for visitors of all faiths to experience the traditions of the medieval time.
According to Mike Johnson, the American General Manager of Patricia Tourist Office, the House of Blackheads was characteristically a fraternity of young, unmarried merchants and ship captains in the Hansa cities, which chose St. Maurice to be their patron Saint. St. Mauritius was an imaginary African black moor (from this the name of the brotherhood "the Blackheads" comes). Due to their exceptional status, the Blackheads played an important role in the society life and traditions; many VIPs of that time (including Russian tsars) took part in events organized by the Blackheads. As a German merchant club the Brotherhood of Blackheads existed in Riga from about 1334 until 1939.
Patricia Tourist Office headquartered in Riga, Latvia, was founded in 1991 by a Latvian Tourism professional. Operating with joint Latvian and American management since 2000, Patricia Tourist office is excited about the possibilities of this new tourism program product. (http://www.friendinbaltics.com)
Travel agents and travel club planners may contact representatives of Patricia Tourist Office for additional information to start their planning now for 2006 and 2007 events.
Sponsors; manufacturers and distributors interested in product opportunities to carry the First Christmas Tree logo are welcome to contact the First Christmas Tree project offices.
Latvia is a reborn destination after 50 difficult years under Soviet Occupation. It us a must stop in your visit to the Baltic countries. (http://www.whylatvia.com)
Riga and Latvia is becoming a destination of choice for International meetings and conferences of all types. Recently, Riga was host to the 2006 NATO Summit. http://www.rigalatvia.net/events/nato)
"First Christmas Tree" (Figurative) trademark applications has also been filed with the European Union; while, "... your friend in the Baltics!" is covered under a figurative trademark application by Patricia Tourist Office in Latvia.
View a video of Santa making his inspection visit to Riga: (http://video.google.com/videoplay?docid=-1494829663721682446&hl=en)
Photo albums of Santa visiting Riga: (http://www.firstchristmastree.com/santa_riga_2006/)
Photos of Latvia make wonderful Christmas and Holiday gifts: (http://www.latviaphotos.com )
###