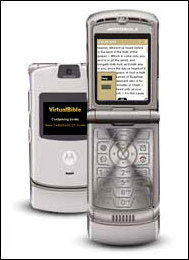 Washington DC (PRWEB) December 18, 2006
ChristianMobile™, the world's first mobile content subscription service was founded during August 2005 in Cape Town South Africa and is today the World's largest distributor of Christian mobile content. ChristianMobile™ distributes mobile content such as ring tones, a wide variety of Christian wallpapers, animations, daily inspirational services such as devotions, prayers, verses etc, music videos and the Bible.
ChristianMobile pioneered the development of the King James Version of the Bible (VirtualBible™) on mobile phones, the first ever commercially available java format of the Bible in the world downloadable to a mobile handset, triggered by sending a keyword to a premium rated short code. Since the launch of VirtualBible™ ChristianMobile™ was appointed as the preferred mobile applications service providers of affiliates of the United Bible Societies, a fellowship of 140 Bible Societies and the American Bible Society. ChristianMobile also pioneered the launch of the world's first Christian mobile chat application CmChat™ as well as the world's first mobile Church White Label solution HolyFone™ to be launched in January 2007.
"Deployment in the US market was challenge due to stringent carrier certification processes, but with a lot of faith coupled with hard work we passed the certification phases and our service is now available on all US carriers. Our main aim and focus is to be God's instrument to spread the Gospel to all corners of the globe and the mobile phone is an excellent medium to introduce the God's Word to millions of people. We are now expanding to other markets and our services will soon be available on 5 continents by January 2007. By conducting constant research and development we are able to be at the forefront of this ever changing segment of technology in the Christian market. According to the latest US Census figures, 79.8% of the US population is affiliated with Christianity, which makes the offering of considerable value to the US demographic" says Bertus Preller Marketing Executive International Business at ChristianMobile.
About ChristianMobile™
ChristianMobile™ is the world's largest distributor of Christian content for mobile phones and offers a comprehensive approach for bringing Christian content to the mobile and wireless arena through customized entertainment content, ringtones and applications for mobile phones in both the 2.5 G and 3G environments. ChristianMobile™ is available on all the US carriers, Alltel, Nextel, Sprint, T-Mobile, Dobson, Verizon and Cingular. ChristianMobile™ provides unique mobile entertainment content and applications for today's Christian.
Contact:
Bertus Preller, Marketing Executive International Portals - Telephone +27215283000
Web address: http://www.christianmobileusa.com
###