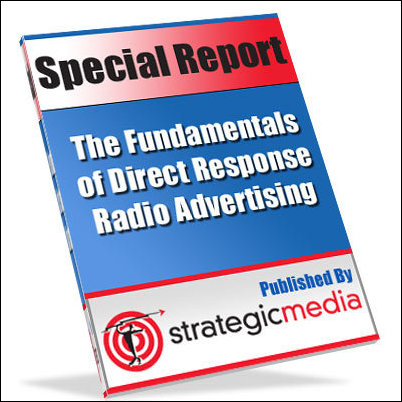 Portland, ME (PRWEB) December 18, 2006
A new report is helping business owners on how to grow their businesses profitably. "Nearly any business can grow profitably with direct response radio advertising" says Strategic Media CEO Jeff Small. Mr. Jeff Small is a radio advertising industry veteran with over a decade of experience in direct response radio advertising. Mr. Small is also the author of this latest report "The Fundamentals of Direct Response Radio Advertising".
Mr. Small reveals the two most important concepts for understanding direct response radio advertising at the macro level. What role can radio advertising play, and how do you think about radio advertising costs in the context of your business profit and loss statement? You'll learn the answer to these questions in this valuable article.
But that's not all. "I wanted to really lay the foundation for understanding direct response advertising in the context of running a business - because that's what our clients are doing. They don't care about direct response radio advertising because it's a hobby or a curiosity. They are running their business, and they want to grow it and grow it profitably. To do that, want information that's practical and actionable, something that will give them an advantage." And that's what readers will gain from this article, which delves into such direct response radio terms as lifetime value of the customer, cost per order, response rates and conversion rates. Mr. Small doesn't stop at defining lifetime value or cost per order. He goes into depth about how to manage these and other key performance indicators by detailing concrete actions that impact them. Readers of this article will come away with valuable, actionable information not just about direct response radio advertising, but also about how to grow nearly any business profitably by properly using the radio advertising channel and the principles of direct response advertising.
Strategic Media, Inc. http://www.strategicmediainc.com is a direct response radio advertising agency with over a decade of experience building large radio advertising campaigns that generate immediate results and profitable new customers. The Company is a full service direct response radio advertising agency offering radio advertising strategy, radio commercial development, and radio media buying profitability management. Jeff Small, CEO and Brett Astor, Vice President both contribute to the direct response radio industry's first blog, The Radio Sage Blog, located at http://strategicmediainc.com/radio-advertising-blog, where they also share their views on the latest news and trends in radio advertising.
Other articles from Strategic Media include:
# # #