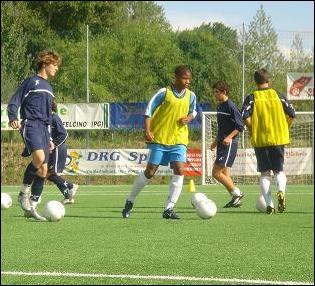 The focus of the entire trip is language immersion
Oakville, Ontario (PRWEB) December 18, 2006
Enrollment is now open for international soccer camp programs offering professional soccer training and cultural immersion in six European countries for students 10 to 19 years old. Students experience foreign culture and learn languages while training with internationally renowned coaching staff in camps offered by EduKick, a leading soccer camp touring company.
Soccer camp students are matched with coaching staff from teams in their host country. "In France we're associated with the professional coaching staff of Michel Hidalgo, former French National Team head coach," said Joseph Bilotta, EduKick vice president, "In Spain our directors are the family of the current coach of the Spanish National Team, Luis Aragones and in England our summer soccer camp is hosted by the Bolton Wanderers Football Club."
In addition to high level soccer training, students at each soccer camp receive two hours of language instruction every day by native teachers. Afternoon soccer training sessions are also conducted in the native language by bilingual coaches. "The focus of the entire trip is language immersion," said Bilotta, "Therefore, the native language will be used whenever possible."
Cultural immersion extends beyond the program's home city. Full-day guided cultural excursions by private bus allow students to experience more of the country. "In Italy we go to Rome, in France we go to Monaco and Nice," said Bilotta.
Soccer camp students live and train under constant bi-lingual adult supervision by designated mentors. "Safety is our primary concern. EduKick soccer camps always have an emphasis on supervision and security," said Bilotta.
EduKick monitors fly with the students to their international soccer camp destination in Europe. They attend students 24 hours a day for the duration of the soccer camp program.
EduKick is now accepting applications at http://www.EduKick.com for the Italy, Spain, England, France, Germany, Greece, England, Mexico and Brazil summer soccer camp programs. These 20-day soccer camp programs are scheduled to run through July and August. "Spain, Italy and France fill up quickly," said Bilotta, "Those are our most popular soccer camps."
About EduKick, Inc.:
EduKick, Inc., a leading soccer camp touring company, offers soccer players a unique opportunity to travel abroad while receiving high quality soccer training from professional soccer trainers. EduKick believes that young soccer players can reach their full potential and learn about other cultures through their programs and training camps. EduKick offices are located in Oakville, Ontario, Canada and Chicago, IL, USA.
###