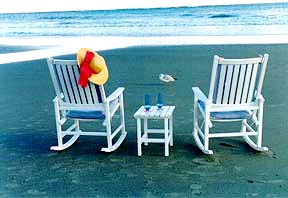 Yarmouth, ME (PRWEB) January 18, 2007
Tempting though they may be, most guys realize that a riding mower or a state-of-the-art snow-blower doesn't cut it when it comes to plucking their sweethearts' heartstrings. Practical choices like vacuum cleaners and dishwashers generate icy stares, while sexy lingerie will never emerge from the dresser drawer. So what's the key to romance? Spoil your Valentine rotten with a BedandBreakfast.com gift card or certificate, good for a relaxing bed-and-breakfast getaway, and unlock the door to love.
Gift cards and certificates are the easiest way to treat your Valentine to luxurious indulgence and relaxation. If your significant other has all the stuff she needs, but no time for romance, a pampering gift certificate or card from BedandBreakfast.com is an excellent stress-free solution.
Estimates indicate that 2006 was biggest year for gift cards ever, with annual sales rising 7%, to $53 billion, according to researchers at the Mercator Advisory Group. Nearly three in four female respondents told the Cotton Incorporated Lifestyle Monitor™ that they planned to purchase gift cards as presents for others. For the majority of women, gift cards give what women would like to receive; according to the Monitor, nearly one in two female respondents said that they want to receive a gift card.
For the a relaxing B&B escape, chose The Bed and Breakfast Card, sold in $50 denominations in thousands of Brooks/Eckerd and Wal-Mart stores and other major retailers. If you prefer online purchasing, go to http://www.BedandBreakfast.com to buy and instantly print a customized gift certificate, complete with your personalized message and choice of photo. Whether you chose the card or certificate, your lucky Valentine will be able to enjoy the gift of a getaway, good at nearly 3,400 inns in the U.S. Beautiful and romantic B&Bs can be found from Cape Cod to the California Wine Country, from Key West to Door County, from Asheville to the Rockies, and everywhere in between. BedandBreakfast.com gift cards and certificates have no blackout dates or extra fees and never expire.
Take a look at these comments from recent purchasers, or read them live and unedited online here. http://www.bedandbreakfast.com/GiftCertificatesFeedback.aspx

What could be better than a gift that makes memories? I'm nervous, but I think my wife will love it. Do you baby-sit too?
A great way to give a nice weekend without making all arrangements in advance.
We have received and used our gift certificates and have purchased many for family and friends.
A "Spoil Her Rotten" gift is sure to bring smiles to the hardest-to-please Valentine. While you're at it, be your own "Valentine" and buy a few for yourself.
Suggested photos: Sample BedandBreakfast.com Gift Certificates - all photos available in high-res for publication; click "more style options" to see all 18 different styles: https://www.bedandbreakfast.com/GiftCertificates/Step1.aspx?r=MM50%7ca.
Also see samples here: http://www.bedandbreakfast.com/PreviewGiftCertificates.aspx
For more information, contact:
Marti Mayne, 207-846-6331
Sandy Soule, 203-637-7642
###