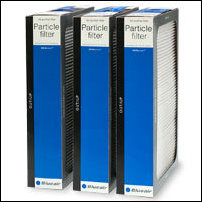 Elyria, OH (PRWEB) March 1, 2007
ClearFlite Air Purifiers, an authorized Blueair dealer, is gearing up for the upcoming allergy season with a significant Blueair promotion. With the purchase of any new Blueair air purifier, customers will receive a free Blueair filter set. Since Blueair air purifiers comes with an initial set of filters, the free set will ensure the customer is ready for the spring and fall allergy seasons, as Blueair filters should be changed twice yearly. This deal is available from March 1 though April 30 of 2007.
All Blueair models including the popular new desktop Airpod, the new Digital 250E, and the standard models, 402, 501 and 601 (which are also available with SmokeStop filters) are included in the promotion. Savings depend on the chosen model but can reach $150 for a 501 or 601 set of SmokeStop filters.
ClearFlite customers applaud Blueair air purifiers not only because of their ability to reduce pollens but also because they reduce airborne mold spores which come with the dampness of spring.
ClearFlite customers will find a coupon for the free Blueair filters on its website at http://www.airpurifiers.com or can call toll-free 800.497.8263.
###