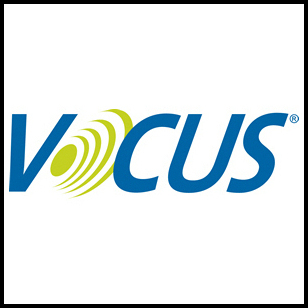 Lanham, Md. (PRWEB) March 3, 2007
Vocus, Inc. (NASDAQ: VOCS) announced today that it has filed a registration statement with the Securities and Exchange Commission for a follow-on public offering for an aggregate offering amount of up to $60 million. Vocus and the selling stockholders (as identified in the prospectus) expect to offer shares of common stock in the offering and the selling stockholders expect to grant the underwriters an option to purchase additional shares to cover over-allotments, if any.
Thomas Weisel Partners LLC will act as sole book running manager for the offering. RBC Capital Markets, Wachovia Securities, William Blair & Company, Canaccord Adams and Pacific Crest Securities will be co-managers.
A registration statement relating to these securities has been filed with the Securities and Exchange Commission but has not yet become effective. These securities may not be sold nor may offers to buy be accepted prior to the time the registration statement becomes effective. This press release shall not constitute an offer to sell or a solicitation of an offer to buy, nor shall there be a sale of these securities in any state or other jurisdiction in which such offer, solicitation or sale would be unlawful prior to registration or qualification under the securities laws of any such state or jurisdiction.
When available, copies of the preliminary prospectus relating to the offering may be obtained from Thomas Weisel Partners LLC, One Montgomery Street, Suite 3700, San Francisco, California 94104, or by calling 415-364-2720.
About Vocus, Inc.
Vocus, Inc. (NASDAQ: VOCS) is a leading provider of on-demand software for public relations management. Our web-based software suite helps organizations of all sizes to fundamentally change the way they communicate with both the media and the public, optimizing their public relations and increasing their ability to measure its impact. Our on-demand software addresses the critical functions of public relations including media relations, news distribution and news monitoring. We deliver our solutions over the Internet using a secure, scalable application and system architecture, which allows our customers to eliminate expensive up-front hardware and software costs and to quickly deploy and adopt our on-demand software. Vocus is used by over 1,700 organizations worldwide and is available in five languages.
Vocus is based in Lanham, MD, with offices in North America, Europe, and Asia. For more information please visit http://www.vocus.com or call 800.345.5572.
This release contains "forward-looking" statements that are made pursuant to the Safe Harbor provisions of the Private Securities Litigation Reform Act of 1995. Statements that are predictive in nature, that depend upon or refer to future events or conditions, or that include words such as "may," "will," "expects," "projects," "anticipates," "estimates," "believes," "intends," "plans," "should," "seeks," and similar expressions. Forward-looking statements involve known and unknown risks and uncertainties that may cause actual future results to differ materially from those projected or contemplated in the forward-looking statements. Forward-looking statements may be significantly impacted by certain risks and uncertainties described in Vocus' filings with the Securities and Exchange Commission.
###