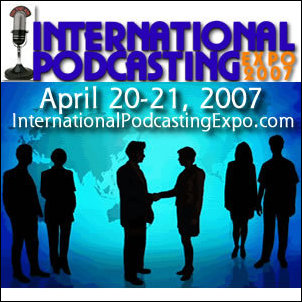 Canton, GA (PRWEB) March 7, 2007
The International Podcasting Expo, April 20-21, 2007 offers 35+ online audio/visual seminars about RSS, Podcasting and MobileCasting. Web Designers, Virtual Assistants, Online Marketers, and Entrepreneurs can learn how to utilize RSS, audio and video to increase search engine rankings and website traffic for themselves and their clients. Weekend Pass Holders receive:
a free lifetime license for Pamela Pro, the Digital Assistant for Skype, from our Sponsor Pamela-Systems;

free Recording and Editing Software
free Mixing Software;
free multimedia Podcasting Handbook
free Podcatching Software
a trial version of Video Editing Software
a data DVD of all 35+ recorded sessions,
as well as other prizes and giveaways.
Speakers include Jason Van Orden, Leesa Barnes, Elisabeth Lewin, Krishna De, Anna Farmery and Heather Gorringe. Among the 35+ sessions, subjects range from Step-By Step Instructions for Podcasting and Beginning Editing Instructions, to Promoting Your Podcast, Podcasting for Profit and MobileCasting with Cell Phones. Three (3) sessions will be open to the public:
Friday, April 20, 2007, 12pm EST - Karin Hoegh: Step-By-Step Podcasting
Friday, April 20, 2007, 8pm EST - Jason Van Orden: Promoting Your Podcast
Saturday, April 21, 2007, 3pm EST - George Smyth: Where To Find Music For Your Podcast
All that is needed to attend is an internet connection and speakers, and a microphone to interact verbally with other attendees and presenters. Groups of 10 or more receive $15 - $20 discounts per ticket, plus a booth at the Expo. For more information about the Expo, contact Penny Haynes of 1st Podcast Publishing, organizer of this Podcasting Conference, at http://www.InternationalPodcastingExpo.com. For the exact speaker schedule, click on "Seminar & Speaker Schedule" on the left sidebar.
# # #