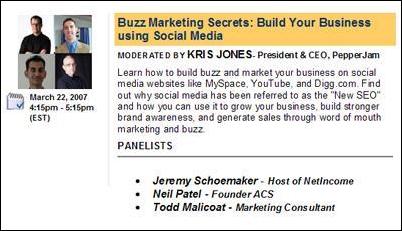 Buzz Marketing Secrets: Build Your Business using Social Media
Chicago, IL (PRWEB) March 16, 2007
Affiliate, Search and Interactive marketing professionals will be gathering together, virtually next week, March 20-22nd for the 5th eComXpo (http://www.ecomxpo.com), the online tradeshow for eCommerce marketers that's completely free to attend. They'll be treated to a dynamic panel presentation on "Buzz Marketing Secrets: Build Your Business using Social Media" at 4:15PM (EST) on Thursday, March 22nd, moderated by prominent speaker, Kristopher B. Jones, President and CEO of Pepperjam, a full-service internet marketing agency. The high-powered panel features:
Jeremy Schoemaker, President, Shoemoney Media Group - an experienced social media expert and author of one of the top 50 blogs in the world, Shoemoney.com.

Neil Patel, CTO, Pronet Advertising - a leading social media expert and consultant
Todd Malicoat, Independent Marketing Consultant, StuntDubl.com - an authority in the areas of social media optimization and search-engine optimization
"eComXpo has put together a stellar team of nationally known experts who explain how businesses can create buzz and market their business on social media websites like MySpace, YouTube, and Digg.com." The panel discusses why social media has been referred to as the 'New SEO' and how you can use it to grow your business, build stronger brand awareness, and generate sales through word of mouth marketing and buzz," said moderator, Jones.
The "Buzz Marketing Secrets: Build Your Business using Social Media" panel is part of the eComXpo Educational Center, featuring top-notch panel discussions, five fabulous solo presentations and keynote speeches from executives at Google, Yahoo! and Revenue Magazine. Presentations will be presented throughout the three days of eComXpo on topics of interest to anyone involved in the eCommerce industry including affiliate, search and interactive marketing professionals, Bloggers, publishers, merchants, networks, eRetailers, agencies and webmasters. Each of these educational sessions will include a live Q&A session broadcast over WebmasterRadio.FM. Attendees will get a sneak peek at "hot" new presentations prepared exclusively for eComXpo University, available to subscribers for three months after the show. For the full speaker roster, visit http://www.ecomxpo.com/March07EducationAgenda.htm.
eComXpo features all the benefits of a top traditional tradeshow including education, networking and fun, without the cost, travel or hassle associated with traditional events. Attendees and exhibitors interact with over 8,000 people via chat or e-mail, attend educational presentations by top industry experts, visit over 300 booths in the exhibit hall and enter to win fantastic prizes, including trips to Las Vegas and Europe, computers and iPods. The best part is that it's all done without leaving the comfort of your own home or office.
Attendee registration at eComXpo is absolutely free at http://www.ecomxpo.com and includes admittance to the exhibit halls, education center, networking lounge and eligibility for all show prizes throughout the three day show.
About eComXpo
eComXpo is the first virtual, online trade show and conference for eCommerce marketers. Hundreds of exhibitors, sponsors, and presenters will be gathering with over 8,000 attendees (making it the largest eCommerce tradeshow in the world), completely online and 100% free to attend. eComXpo provides all the benefits of a top tradeshow without the cost, travel or hassle normally associated with traditional events. Free registration and additional information is available at http://www.ecomxpo.com. eComXpo is produced by InXpo (http://www.inxpo.com), which also powers online events in other markets.
For more information contact Allison Clark at Allison(at)ecomxpo.com or 1-847-457-4454.
Event Contact:
Caleb Chase
caleb(at)ecomxpo.com
847 457-4456
Press/Speaker Contact:
Allison Clark
allison(at)ecomxpo.com
847-457-4454
###