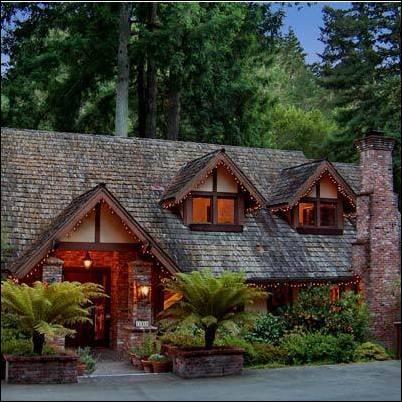 Austin, TX (PRWEB) March 19, 2007
Although travelers burn gas to get to their destinations, one answer to greener travel is to "carbon offset" the vacation by choosing an eco-friendly B&B. BedandBreakfast.com innkeepers are moving toward greener getaways by investing in earth-friendly practices to insure guests the finest in eco-escapes. Look for great ideas for Green Getaways and Eco-Escapes on BedandBreakfast.com, which lists more than 35 earth-friendly special packages.
Listed in alphabetical order by state, these BedandBreakfast.com members are perfect for those in search of the "green scene."
Strawberry Creek B&B, Idyllwild, CA: Relax on soft, cotton-like hammocks made from recycled soda bottles. This inn's tranquil wooded setting is certified by the National Wildlife Federation as an official backyard wildlife habitat. Rainwater is collected for watering the gardens, thereby reducing water use, soil erosion, runoff and sewage usage. Native plants are abundant in the pesticide-free gardens, and earth-friendly products are used throughout the inn for cleaning and maintenance.
FEATURED GREEN SCHEME FOR ECO-TRAVELERS: Compost kitchen, yard and garden waste in either a traditional tumbling compost bin or worm composting structures. Worm composting bins are fully enclosed and ideal for creating nutrient-rich natural fertilizers.
Neon Rose B&B, Point Reyes, CA: Fully dedicated to the comfort of chemically sensitive travelers, this cottage adjacent to 260 acres of Point Reyes National Seashore is in the middle of the organic food capital of the country. Fragrance-free, earth-friendly cleaning products are used; hypo-allergenic linens and pillows are available. Constructed from non-toxic and environmentally friendly materials, this cottage-style B&B goes the extra mile beyond green to chem-free. You'll find no pesticides in gardens, and nothing but clean, fresh air.
FEATURED GREEN SCHEME FOR ECO-TRAVELERS: Combine vinegar with Bon Ami Cleanser, containing no chlorine, perfume or dye, for the ideal solution to make windows sparkling clean.
Avalon Luxury B&B, Sebastopol, CA: Environmentally friendly cleaning products along with vinegar and water solutions are used to keep guest and common rooms sparkling. Water is conserved using a rain-water catchments system for keeping plants green, saving well water for necessities. Guests are treated to locally produced organic foods. Solar panels are being added for extra energy savings.
FEATURED GREEN SCHEME FOR ECO-TRAVELERS: Attach timers and motion sensors to lighting in low-traffic areas to conserve electricity. No need to light hallways and rooms when no one is present.
Worthington Mansion B&B, Fort Wayne IN: From wooden furnishings cleaned only with natural lemon oil to bath amenities carefully crafted at the inn with organic ingredients and essential oils, this B&B is dedicated to earth-friendly hospitality. Compact florescent and lower watt bulbs, dimmers and timers ensure that minimal electricity is used for maximum conservation without sacrificing ambiance. Organic herbs are grown on windowsills and consumables are purchased in bulk, cutting down on wasteful packaging and gas consumption for grocery shopping.
FEATURED GREEN SCHEME FOR ECO-TRAVELERS: Front loading washing machines are a great way to conserve water. Front loaders typically use 60 percent less water and 68 percent less energy than conventional washers.
Jenks House, Jacksonville, FL: Formerly owners of a water conservation company, innkeepers here installed a solar-powered water heater that heats 90 percent of the hot water for the house. Organic gardens keep guests supplied with fruit, flowers and herbs.
FEATURED GREEN SCHEME FOR ECO-TRAVELERS: Solar power is an economic and earth-friendly source of power to run smaller appliances and heating systems.
Chez Sven B&B, Wellfleet, MA: Committed to eco-tourism, this B&B provides a natural, chemical-free environment geared toward those with environmental sensitivities. Allergy-free suites feature 100 percent organic cotton bed linens and hypo-allergenic comforters and pillows for those allergic to down. Non-toxic green detergents are used in a front-loading energy-efficient washer and whenever possible sheets are line dried. Hepa filters in vacuums help to maintain air quality. The inn is totally smoke- and pet-free. Organic raspberries, tomatoes and potatoes, plus homemade organic yogurt are guest favorites for breakfast.
FEATURED GREEN SCHEME FOR ECO-TRAVELERS: During warmer weather, dry sheets and towels outside. Not only will you save energy, but they'll smell and feel fabulous.
Pilgrim's Inn, Deer Isle, ME: Certified by the state of Maine as an environmental leader, this country inn and restaurant is sweet on recycling. They use biodegradable "to go" containers made of sugar cane. Used cooking oil is donated to those driving cars fueled by bio-diesel. Soaps and shampoos are no longer packaged but provided via dispensers in guest baths and showers. Natural kitchen waste is composted, and island-grown organic vegetables are served as often as possible. Low-flow showers and toilets help to conserve water.
FEATURED GREEN SCHEME FOR ECO-TRAVELERS: Swap traditional light bulbs for compact fluorescent bulbs, saving energy on both lighting and cooling. These new bulbs last eight to ten times longer, use about 75 percent less energy, and produce 90 percent less heat while delivering more light per watt than incandescent bulbs.
Classic Rosewood, Hastings, MN: Plastic bags are recycled and given to local food pantries, and berry containers are returned to farmers' markets for future use. Recycling is a way of life at this inn which shares its commercial recycling bin with neighbors to encourage earth-friendly practices. Recycling containers dressed in flowers with signs to encourage guests to help save Mother Earth. But the ultimate in recycling comes from the inn's furnishings: a copper soaking tub and sink from an old barber shop and marble for the inn's fireplace hearths from the old Minneapolis Sheraton Ritz Hotel.
FEATURED GREEN SCHEME FOR ECO-TRAVELERS: Instead of firewood, which emits harmful toxins into the air, this inn recommends Java Logs. Made from pressed spent coffee grounds, these logs not only produce 10 times less creosote and carbon monoxide and divert 42 million kg/year of coffee waste from landfills, but they also burn longer and hotter than firewood or other pressed log products.
Sugar Hill Harlem Inn, New York, NY: Solar panels are being added to make this New York City's only B&B offering naturally powered energy. In addition, the innkeeper has created a bio-sustainable garden using advanced composting techniques. This Harlem oasis grows corn, cayenne, sunflowers, and heirloom tobacco using seeds from Navajo Indians.
FEATURED GREEN SCHEME FOR ECO-TRAVELERS: Encourage bio-diversity by recycling seeds from hearty plants to bring back plants last season after season.
Inn at Hickory Run, White Haven, PA: Innkeepers David and Nancy Pfeil combined their masters' degrees in thermal mechanical and heat transfer sciences and chemical engineering to construct an entirely computer-automated and energy-efficient B&B. Geothermal heating and air-conditioning systems can heat and cool the 9,300-square-foot B&B and also generate 400 gallons of hot water at a fraction of the cost of traditional systems without burning fossil fuels. To further reduce dependence on electricity, thermostats and other electrical systems are connected to a computerized home automation package. Motion detectors reduce the cost of lighting when no one is present. Outside lighting is computer controlled so lights are only turned on at the appropriate time. Remarkably, this entire home automation system can be controlled and modified via the Internet and accessed from any web browser, including the browser on the Pfeil's cell phone.
FEATURED GREEN SCHEME FOR ECO-TRAVELERS: Attach timers to lighting, and adjust times seasonally to save on electricity when days are longer and provide natural light.
Wickford Junction Inn, B&B, North Kingston, RI: Designed to bring nature in, this B&B composts kitchen scraps to create a rich fertilizer for the inn's organic herb garden. Integrated pest management techniques are utilized in the inn's yard, including water features to attract frogs and dragon flies, flowering plants to draw birds and insects that control other insects, plus tall trees to attract bats, which eat mosquitoes.
FEATURED GREEN SCHEME FOR ECO-TRAVELERS: Construct butterfly, bat, and bird houses to attract insect-eating friends rather than using commercial pesticides.
Hoffman House, Fredericksburg, TX: Vegetarian guests love the homemade tofu, and in the ultimate of recycling processes, the okara (soy pulp) from that process is used to make homemade soy sausages. Organic and locally grown foods are the norm here, along with earth-friendly Seventh Generation cleaning products and spa amenities.
FEATURED GREEN SCHEME FOR ECO-TRAVELERS: Buy Fair Trade organic teas and coffees, dedicated to fair trade partnerships that are economically just and environmentally sound.
Inn at Weathersfield, Weathersfield, VT: Recipients of the Sustainable Cuisine Award for New England from Sante magazine in 2006, this inn and restaurant is in the last year of a five-year plan to reduce its environmental impact through recycling, composting, and creating an energy efficient environment. During this time, the inn has reduced fuel consumption by 50 percent, equal to 633,450 pounds of carbon dioxide emissions. Their conservation plan included investment in insulation and energy efficient heating systems, windows, and doors; offering non-packaged soap made from essential oils in dispensers; recycling of guests' glass, paper, and newspapers; and buying locally.
FEATURED GREEN SCHEME FOR ECO-TRAVELERS: Eat locally grown and produced food. It takes a lot of gas to move a head of lettuce from California to Vermont; you'll support local farmers and small business; and the shorter the distance from field to table, the better it tastes.
Pinehurst Inn, Bayfield, WI: Calling themselves an "eco-elegant" accommodation, the inn was recognized for its commitment to earth-friendly practices with the 2004 Environmental Stewardship Award from the Lake Superior Binational Forum. Their green house was recently built entirely from eco-friendly and sustainable materials. In the ultimate in recycling statements, for around-town travel, the innkeepers use a 1982 Mercedes Diesel, dubbed the "Grease Car," converted to run on used vegetable oil from local restaurants. By the end of 2007, they'll be producing their own bio-diesel in-house to fuel their additional cars.
FEATURED GREEN SCHEME FOR ECO-TRAVELERS: This inn hires only local residents. Not only are they more familiar with the area, but it translates into carbon-reduced commutes.
Arbor House, Madison, WI: Hailed as a model for urban ecology, guests are provided with an unparalleled combination of natural design, features, fabrics, amenities, and surroundings. With everything from water-efficient appliances to organic mattresses to the use of sustainably harvested wood, this B&B embraces eco-hospitality.
FEATURED GREEN SCHEME FOR ECO-TRAVELERS: According to the American Water Works Association, if all U.S. households installed low-flow faucets and toilets, plus water-efficient washing machines, water use would decrease by 30 percent, savings more than $4 billion per year.
White Pines Victorian Lodge, Sturgeon Bay, WI: Members of Green Hotels Association and Sustainable Travel International, every aspect of this inn is dedicated to care of the earth's environment. Not only are no chemical cleaners used, but in an attempt to provide a hospitable environment for those with multiple chemical sensitivities, guests are asked to sign an agreement not to wear any chemical products, perfumes, colognes or hairsprays at the inn. All natural cotton and wool fabrics are found in rooms, and more than two million gallons of water and subsequent energy have been conserved by guests re-using towels and sheets throughout their stays, and installation of low-flow showerheads and toilets. Located in a beautiful wooded setting, guests can walk to many nearby restaurants and waterfront attractions.
FEATURED GREEN SCHEME FOR ECO-TRAVELERS: Over 40 million Americans have been diagnosed with MCS (Multiple Chemical Sensitivity), an invasive and complex illness. Be kind to those with super-sensitive bodies by avoiding perfumed laundry detergents, soaps, shampoos, and deodorants.
A Downtown Victoria Oceanfront B&B, Victoria, BC, Canada: Leave the car behind, and travel by ferry to Victoria, then use foot power to explore ocean front pubs and parks. Garbage restrictions mean recycling, non-packaged and locally grown goods are the norm here.
FEATURED GREEN SCHEME FOR ECO-TRAVELERS: Fabulous savings come from the "Incredible Shower Heads" (that's their name) which deliver a strong shower yet use very little water, conserving water and the electricity to run water heaters.
Old Doctor's House B&B, Markt Einersheim, Germany: Eco-travelers will enjoy European hospitality, green by custom where groceries come home in baskets not plastic bags, a trip to the market is by bicycle not car, and food comes from local farmers. Sheets are dried by air and modern low-flow toilets and energy saving light bulbs are used throughout the B&B.
FEATURED GREEN SCHEME FOR ECO-TRAVELERS: Distilled white vinegar makes a wonderful natural cleaner. Mix a solution of vinegar and water and use for cleaning all bathrooms and surfaces.
For additional green getaways and eco-escapes, visit http://www.BedandBreakfast.com and click the links in the lower left-hand corner of the page. Learn more about these inns and 6,300 others on BedandBreakfast.com, the leading online bed and breakfast Internet directory and reservation network worldwide. A variety of search functions and extensive maps enable inngoers to find the perfect B&B. Travelers can make reservations online, purchase gift certificates welcomed at nearly 3,500 U.S. bed & breakfast inns, subscribe to free newsletters, read and write independent reviews, and post questions on expert-hosted message boards.
BedandBreakfast.com is the exclusive B&B aggregator for Expedia, Inc. and Expedia serves as BedandBreakfast.com's exclusive online travel agent. See http://www.bedandbreakfast.com/about/press.aspx?year=2006&article=04032006 for details.
Additionally, for information on a range of independently-owned distinctive lodging, visit BedandBreakfast.com's sister site, http://www.Inns.com.
CONTACT: Marti Mayne, 207-846-6331, Marti.Mayne (at) BedandBreakfast.com
Sandy Soule, 203-637-7642, Sandy.Soule (at) BedandBreakfast.com
###