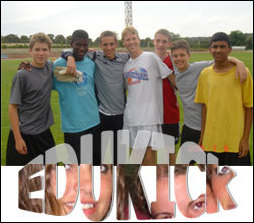 This is really an amazing opportunity for young players to visit Spain, study Spanish and receive technical soccer training from professional Spanish coaches
Madrid, Spain (PRWEB) March 20, 2007 -
Students have a variety of opportunities for studying abroad thanks to a Spanish soccer school in Madrid, Spain. The soccer and Spanish language program, which is operated by EduKick, Inc., offers in-depth soccer coaching and full-immersion Spanish language studies through soccer summer camps and year round high-school and university soccer boarding school programs.
"This is really an amazing opportunity for young players to visit Spain, study Spanish and receive technical soccer training from professional Spanish coaches," said Joey Bilotta, Vice President of EduKick Inc. "The family of Luis Aragones, coach of the National Team of Spain, will be directing all EduKick Spain soccer programs, sharing their deep affection for Spain and Soccer with our students. These programs really give young players an advantage in the competitive world of youth and University soccer."
While soccer has become the most popular youth sport in America over the past 25 years, American soccer is young in comparison to the extremely competitive international scene. Soccer training at the Madrid, Spain Spanish soccer camps and boarding schools aims to tap into the long-time love of soccer throughout Spain and Europe.
Training at the EduKick Spanish soccer school focuses on:
Strength and Conditioning
Technical Precision
Tactical Development
Sport Psychology Coaching
Several soccer and language programs are available at the EduKick Madrid school, including Spanish soccer camps designed for elite youth players ages 14 and up. EduKick Spanish soccer camps range in length from a couple of weeks to a couple of months and year round training is available for students over 14 years old.
The soccer Spanish language program designed by EduKick strives to provide students with a full-immersion learning experience. The Madrid school's staff of bilingual instructors believes that students learn Spanish more quickly and fluently because they are surrounded by the culture of Spain. Thus, students of the Spanish soccer school will have the chance to improve their foreign language skills exponentially during their stay.
This will please many parents, as bilingual Americans are in high demand, especially those fluent in Spanish. Currently, Spanish is one of the five most spoken languages in the world and the second most spoken language in America.
Space is limited, so register now for EduKick's soccer and Spanish language school. You can also learn more about Edukick or sign up for their International soccer newsletter at edukick.com.
About Edukick, Inc.
Edukick's mission is to provide intensive soccer training programs that also teach youngsters about cultural diversity and foreign languages. As professionals, soccer fanatics and fathers, Joseph Bilotta and Corey Zimmerman wanted to create a program that maximized the EduKick youth's time abroad; instilling a sense of independence and pride through experiencing international travel, structured language study, cultural excursions, and professional soccer training.
Press Release Authoring and Search Engine Promotion by Xeal
###