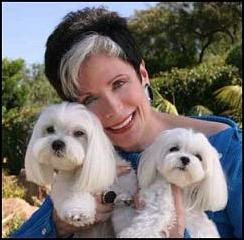 Unfortunately, this tragedy isn't the first, nor will it be the last.
San Diego, CA (PRWEB) March 22, 2007
Menu Foods' recent recall of dog and cat foods, including popular brands like Iams, Eukanuba, Mighty Dog, and Special Kitty stunned pet lovers who had believed they were feeding their pets the very best food available. Thus far, 42 brands of cat food and 53 brands of dog food are involved in the recall. Given the huge number of animals that were potentially exposed to these products, the death toll is likely to be high.
Dr. Hofve, who recently retired as Editor-in-Chief of the Journal of the American Holistic Veterinary Medical Association, is distressed by the suffering of the animals. Dr. Hofve says, "Unfortunately, this tragedy isn't the first, nor will it be the last."
To help pet owners protect their pets and learn what they need to know about dog and cat nutrition, Dr. Hofve and Rasmusen will offer a series of three telephone seminars, available separately or as a group, on pet nutrition and health.
The classes, which will also be available as recordings, will be held on three consecutive Wednesdays beginning March 28, 2007, at 5:30 pm PDT / 6:30 pm MDT / 7:30 pm CDT / 8:30 pm EDT. They will run for 60 minutes followed by a 30-minute question-and-answer session.
Teleseminar #1 will navigate the hype in pet food marketing and show you how to choose the best, and SAFEST food--and get fussy animals to eat it. It will also cover the importance of variety and natural foods, plus when, why and how to switch foods to maximize your pet's health and well-being.
Teleseminar #2 will cover prevention and nutritional therapy of obesity, arthritis, inflammatory bowel disease, food allergies, diabetes, and other food-related diseases.
Teleseminar #3 will help you take your pet to the next level of optimal health by using natural diet, nutritional supplements and holistic health care.
Go to Ask The Pet Food Experts for more information.
For pet lovers looking for immediate guidance, Rasmusen and Dr. Hofve recommend these "rules to shop by" when selecting commercial food for your dog or cat.
Top Ten Rules for Choosing the Safest and Best Pet Foods
1. Read the label! Call the manufacturer's toll-free number if you have any questions.
2. Canned foods are still better for your pet than dry kibble.
3. Expect the first ingredient to be one or more named meats (like lamb or chicken).
4. Accept no by-products (including meat-and-bone-meal and beef-and-bone-meal).
5. Accept no "animal" products, such as "animal digest."
6. Reject all corn products and gluten meals.
7. Reject chemical preservatives (BHA, BHT, propyl gallate, ethoxyquin, propylene glycol).
8. Select "natural" or "human grade" foods. While these terms have no legal definition, they are generally seen on better-quality foods.
9. Avoid "light" or "senior" or "special needs" or "breed-specific" foods. These variations on regular pet food are mostly marketing gimmicks, with little or no real benefit to your pet.
10. Feed several brands and flavors with different protein sources your dog or cat tolerates well, and rotate frequently.
For information on feeding myths and what really goes into dog food, read a chapter excerpt from Scared Poopless called "Food to Die For."
Note: Symptoms resulting from the recalled food include vomiting, increased thirst, altered urination, lethargy, or poor appetite. If you have any doubts about your pet's condition--no matter what food you're feeding--please contact your veterinarian immediately.
Media Inquiries:
Contact Dr. Hofve at http://www.littlebigcat.com for interviews.
Contact Jan Rasmusen for interviews or review copies, and get further information and view TV clips at her on-line Media Room.
Short-notice interviews are welcomed by both experts.
Jan Rasmusen
858-755-8820
San Diego, CA
###