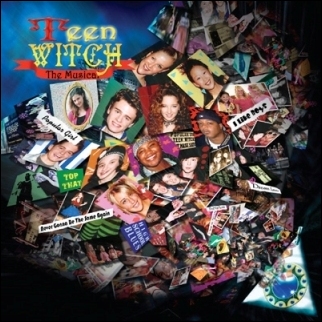 Los Angeles, CA (PRWEB) April 5, 2007
Fans of the 80s film "Teen Witch" are finally realizing their dreams with the release of the " Teen Witch The Musical " soundtrack. The original producers of the music for the film, Larry Weir and Tom Weir, have released the album on their newly formed Caption Records label. "We've been asked about an official release of the songs ever since the film came out, but the original masters weren't available," commented Grammy winning producer/engineer Tom Weir, who owns Studio City Sound where the album was recorded.
Determined to give the fans what they wanted, Larry and Tom decided to re-create the magic and re-record the original songs. The first single, "Finest Hour," features recording artists Sara Niemietz ("Akeelah and the Bee", "13 the Musical") and Blake Ewing ("Little Rascals", "Ragtime"), and is already in the Top 10 at New Music Weekly and on the IMN Top 30 countdown - and this is just the beginning!
"Teen Witch" (the movie), has had ongoing airings on the Disney Channel, HBO, Showtime and ABC Family Channel, and has been packing midnight showings from New York to Seattle. Clips featuring songs from the film have been viewed over one million times on YouTube alone. The enduring popularity of the music prompted the film's writer/producer Alana Lambros to get together with the Weir Brothers and develop a full scale (Broadway bound) musical as a vehicle for the songs and the story's timeless message. "We kept attending these sold out screenings all over the country, and Alana turned to me and said 'we have to take this to Broadway'," explained songwriter/producer Larry Weir.
The team held auditions for over a month and eventually found the perfect blend of talent for the project. In addition to Sara Niemietz and Blake Ewing, other featured artists include Monet Lerner ("The Suite Life with Zack and Cody"), Tessa Ludwick ("Disney Movie Surfers"), Lauren Patten ("The Diary of Anne Frank"), V-Style (Terminator 3), Heather Youmans, Ashley Crowe, Bryce Blue, and Alycia Adler. Some of the musicians include: guitarist Tim Pierce (Avril Lavigne, Phil Collins), drummers Josh Freese (Sting, Nine Inch Nails) and Matt Laug (Christina Aguilera, Alanis Morissette), percussionist Luis Conte (Madonna, Shakira), bassists Lance Morrison (Rod Stewart, Don Henley) and Paul Bushnell (Kelly Clarkson, Faith Hill), and brass by Nick Lane (Josh Groban, Fall Out Boy).
As the show continues in development, a concert version of "Teen Witch The Musical" will hit the road this summer, bringing those irresistible pop sounds to radio station events, theme parks and county fairs.
The full-length CD album is available at Amazon.com and iTunes worldwide. Distribution for Caption Records and "Teen Witch the Musical" is by Burnside Distribution Corporation, and digitally by INgrooves.
For additional information contact Estelle Harrison at:
Caption Records / Studio City Sound
4412 Whitsett Avenue
Studio City, CA 91604
Ph: 818-505-9368
Fax: 818-761-4744
eharrison @ captionrecords.com
http://www.teenwitchthemusical.com
Publicity:
Debi Fee
debifee @ captionrecords.com
310-877-9006
# # #