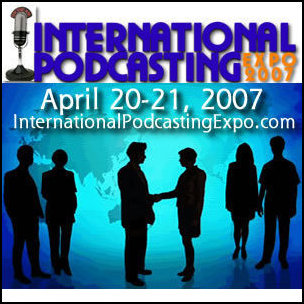 Legally Using Music on Podcasts
Canton, GA (PRWEB) April 16, 2007
The success of Podcamp Atlanta and Podcamp NYC proves that Podcasting is an incredibly effective tool for entrepreneurs and people passionate about what they promote. People fly from all over the world to visit the Portable Media and Podcast Expo every fall to see the newest in technology and meet with other podcasters in person. Once toted as a fad, Podcasting has become a respected tool for broadcast companies, media outlets, blue chip companies and entrepreneurs.
Every spring, the Online International Podcasting Expo opens its virtual doors and offers over 35 audio/visual sessions by respected Podcasters from around the world. Sponsored by Pamela Systems, the creator of the Skype digital assistant named "Pamela", Revolution Wealth TV, and 1st Podcast Publishing, this Podcasting Expo makes it extremely easy and affordable for anyone in the world with an internet connection to participate in classes and networking sessions. In addition, all 35+ hours of sessions are recorded and sent to attendees on data DVD after the Expo, with access to a downloadable library available right after the Podcast Expo.
Visitors can participate in three (3) free audio/visual Podcast Instruction Sessions April 20-21, 2007. These classes include "Step-By-Step Podcasting", by Podblog.dk's Karin Hoegh, "Promoting Your Podcast", by author Jason Van Orden, and "Legally Using Music on Podcasts", by George Smyth of the Association of Music Podcasting. These free sessions at the Online International Podcasting Expo are only a few of the 35+ sessions offering everything you need to know about Podcasting for your business or for pleasure.
Additional classes include introductions to recording, editing and mixing audio using free programs such as Audacity, Wavepad and Mixpad, as well as an introduction to Video production using Techsmith's Camtasia. Other classes provide strategies for podcasting for profit, as well as for increased search engine ranking. Learn about new Podcasting technologies and services, such as TalkShoe and CrowdAbout.us, and also how podcasts can be delivered to listeners via Mobile Phones.
Attendees will receive free recording, editing and mixing software, a lifetime license of Pamela Pro for Skype, a free multi-media Podcasting Handbook, the opportunity to win $5000 worth of prizes from Revolution Wealth TV, as well as many other door prizes and freebies. Groups of 10 or more receive discounted tickets, so professional organizations for Virtual Assistants, Web Designers and Online Marketers can benefit from learning podcasting as an additional service that they can provide for their clients.
For more information about the Expo and about discounted tickets, go to the Online International Podcasting Expo site.
###