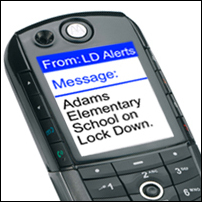 Originally we didn't think our service was relevant for Universities, but yesterday's tragedy demonstrated how necessary a rapid alert system is for any campus
Tampa, FL (PRWEB) April 17, 2007
LockdownAlert.com provides free cell phone text messages that alert parents if an elementary, middle or high school goes on lockdown. This free service will now be extended to college students and universities due to the aftermath of the shooting rampage at Virginia Tech.
"Originally we didn't think our service was relevant for Universities, but yesterday's tragedy demonstrated how necessary a rapid alert system is for any campus," remarked Glen Wheeler, President of Xleet, Inc. which runs LockdownAlert.com. "It has been reported that the shooter killed most of the people two hours after the first shots were fired. With a rapid and inclusive lockdown notification system in place, the second set of murders may have been reduced or avoided."
LockdownAlert.com's messaging system was launched in October of 2006. All public schools in the United States are listed. Parents sign up by choosing the school that they would like to monitor for alerts. Public school lockdowns occur dozens of times each day across the country. Lockdown reasons can vary greatly from wild animals roaming near campus, weapons such as guns or knives found or shootings like the one that happened last week at a high school in Oregon. When a lockdown occurs at a school, a text message is sent directly to the parent's cell phone or email address. Details of the lockdown are available at the website.
Lockdown Alert will work exactly the same way for colleges and universities, but it is expected that the service will be used by the students as well as their parents. Lockdown Alert will now begin working with school administrations to make sure they are aware of how to send out lockdown notices as soon as they occur.
Parents and students are encouraged to register immediately at Lockdown Alert. There is no charge to schools, parents or students and no personal information is requested. LockdownAlert.com also strongly states that email addresses and phone numbers are never shared with any other parties and are only used for emergency notification purposes.
###