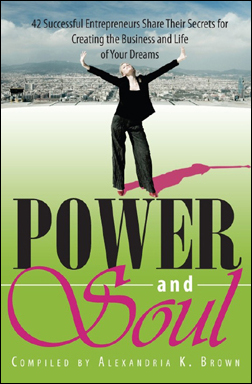 Confessions of Shameless Internet Promoters
Marina Del Rey, CA (PRWEB) April 17, 2007
http://www.AlexandriaBrown.com, the leading online success educational source for coaches, consultants, authors, speakers and other entrepreneurs, announces the release of Alexandria K. Brown's new book "Power and Soul" http://www.powerandsoulbook.com on entrepreneurial small business success which is now available in select retail locations and on the Internet. Alexandria K. Brown co-authored and compiled "Power and Soul" featuring 42 successful entrepreneurs who started with nothing and have risen to the top of their game. They share their secrets for creating the business and life of their dreams.
"I have clients who have been asking me for years to put the best kept secrets of successful entrepreneurs into a book," said Alexandria K. Brown, Founder and CEO of AKB Communications, Inc. http://www.AlexandriaBrown.com. "I've hand picked the most resourceful and inspiring collection of stories, tips and techniques for success, specific do's and don'ts, and the most valuable lessons learned and compiled them into a very valuable handbook for small business entrepreneurs. One of the first things this book will do is get you centered and focused on what you really want in life. It will change the way you think and feel about your business." In the book, 42 successful small business entrepreneurs take you behind the scenes of their best-kept secrets that were responsible for creating the tipping point in their business success.
"'Power and Soul' is your heartfelt goal!" said Mark Victor Hansen, co-author of "Cracking the Millionaire Code" and the world-record holding best-selling co-author of the "Chicken Soup for the Soul" series. "And the stories and strategies in my friend Alexandria's book will inspire you to go from here to there - to get you where you really want to be."
"Success requires having the courage to take risks, and that means tapping into your own personal power," said Kendra Todd, author of "Risk and Grow Rich", and the winner of Donald Trump's and Mark Burnett's The Apprentice season 3 on NBC. "The secrets and strategies revealed in "Power and Soul" will shorten your entrepreneurial learning curve and help you make more money!"
Beyond the psychological self-discipline that every entrepreneur must learn and master for true business success, the http://www.powerandsoulbook.com book covers practical strategies and tips for translating a business vision into financial freedom. Key chapters include:

How to use "soul power" to create a life of prosperity.
How to build a million-dollar business from scratch.
Super marketing and sales secrets that allow you to be yourself, live in truth, and sell more than ever before.
Simple ways to stop "surviving" as an entrepreneur and start thriving… with more health, wealth, love, and happiness than ever imagined.
Alexandria Brown has been sponsored as a speaker by Microsoft, interviewed by "The Wall Street Journal", and has been featured in "Entrepreneur Magazine" and countless marketing books including "Confessions of Shameless Internet Promoters". A dynamic speaker whose presentation style "rocks the house," Ali has been invited to be a guest speaker at large events hosted by marketing and motivational geniuses, such as the Dan Kennedy and Bill Glazer Info-Summit, Mark Victor Hansen's Mega Book Marketing University, and she is speaking at the Dan Kennedy and Bill Glazer Super Conference in Chicago as well as Armand Morin's Big Seminar in Atlanta. From the United States to Australia, the "Big Boys" of the Internet business world celebrate Alexandria's success and for good reason.
"I'm a big believer in learning from people who have attained the kind of success you want to achieve. I started out my business several years ago in a pre-war 5-story walk up in New York City and at one point had less than $20 to my name. This year I broke $1,000,000 in annual revenue working less than I ever have before, enjoying the best health I've ever had, enjoying more freedom than I've ever had in my life, and I moved into the California beach home of my dreams. I'm literally living the life I've always dreamed of!" Alexandria Brown continued, "I've also coached several clients into the most successful years of their business lives, so what I live by and teach has not only worked for me, but it also works for my clients. My coaching clients have been asking me for years to share the best of the best-kept secrets of entrepreneurial business success. 'Power and Soul' has been well worth the wait."
About Alexandria K. Brown http://www.AlexandriaBrown.com, online entrepreneur and million-dollar marketing coach, has taught thousands of small business owners how to use the Internet and information marketing to become well-known, have more fun in their business, work less, and make a lot more money. The award-winning creator of "Boost Biz With Your Own Ezine" http://www.EzineQueen.com, "The Online Success Blueprint™ Workshop" and "Workshop Marketing Secrets" invites you to enjoy http://www.powerandsoulbook.com "Power and Soul".
###