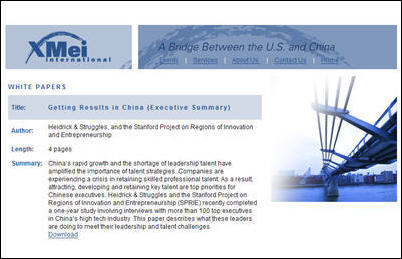 Walnut Creek, CA (PRWEB) April 18, 2007
Companies desiring to do business in China face a host of challenges due to differences in hiring practices, cultural expectations and more. But several white papers now available at XMei International's website can help U.S. businesses thrive in this unfamiliar landscape.
Kyung Yoon is the vice chairman of executive search firm Heidrick & Struggles International, Inc. The company co-authored Getting Results in China with the Stanford Project on Regions of Innovation and Entrepreneurship. The white paper outlines the crisis Chinese organizations are experiencing in retaining skilled professional talent. Based on a one-year study involving interviews with more than 100 top executives in China's high tech industry, the paper describes what these leaders are doing to meet their leadership and talent challenges.
Donny Huang, managing director of 4stones Cross-Cultural Consulting Group, offers two informative articles. Managing Through Understanding explains the differences between Western and Chinese management styles. The paper then shares some keys to effective communications, leadership, delegation, feedback and motivation for Chinese staff.
In Mentality, Mindset, Mianzi: How to Avoid a Crisis, Huang describes the hidden cultural rules that play into the daily reality of doing business in China, including "mianzi" (face), group mentality and the hierarchical mindset. Misunderstanding the intricacies of Chinese culture on business can lead to public relations crises or severe damage to a brand's reputation, as illustrated in this paper.
Both experts are slated to speak at XMei International's inaugural conference and exposition, Making China Your Gold Mountain. To be held in South San Francisco on May 23-25, the conference is the first event in the U.S. with influential Chinese HR executives and business leaders from multinational companies, private Chinese companies, Chinese consulting firms and the government.
These and other insightful white papers are available for download at http://www.xmei-int.com/whitePapers.html
About XMei International
XMei International is dedicated to promoting business development between the U.S. and China. It organizes events, both in the U.S. and China, which enable companies to develop new business opportunities, increase knowledge of the other country's business practices, and make valuable international business connections. XMei International also offers other services, including business matches and consulting and market research for both U.S. and Chinese clients.
Media Contact:
Liz Menkes
XMei International
Lmenkes(at)xmei-int.com
925-708-6304
This press release was distributed through eMediawire by Human Resources Marketer (HR Marketer: http://www.HRmarketer.com) on behalf of the company listed above.
###