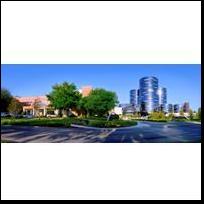 They came through with flying colors.
San Jose, CA (PRWEB) April 19, 2007
LGC Wireless, the leader in advanced in-building wireless systems, today announced that Orlando Regional Healthcare (ORH) has selected its InterReach® Fusion in-building cellular coverage system to provide strong and reliable cellular service inside its new, 11-story Winnie Palmer Hospital for Women & Babies, the 8-story Arnold Palmer Hospital for Children, and in adjacent emergency rooms and operating suites.
One of Florida's most comprehensive medical systems, Orlando Regional offers a wide-range of sophisticated healthcare services to 1.6 million Central Florida residents. ORH added to its Orlando facilities with construction of the Winnie Palmer Hospital in 2004-2006, but the building's energy-efficient reflective glass prevented cellular signals from penetrating inside. Based on a successful experience with a small LGC Wireless system covering one floor in Orlando Regional Medical Center three years ago, ORH chose LGC's new InterReach Fusion system to provide multi-carrier coverage throughout the Winnie Palmer Hospital and Arnold Palmer Hospital facilities. Currently, the hospital contracts for cellular service with Sprint Nextel and AT&T.
"We had great results with LGC equipment in our earlier deployment, and we were confident that LGC could once again solve our coverage issues," said Ron Carroll, telecommunications manager at ORH. "They came through with flying colors."
Although Cingular had provided a small LGC system in 2004 to improve cellular reception on one floor of its adjacent Orlando Regional Medical Center, the ORH staff decided to purchase the new LGC InterReach Fusion system outright. Unlike previous systems, the InterReach Fusion solution delivers multi-frequency, multi-carrier support through a single set of electronics. This design reduces acquisition, deployment, and management costs.
"Hospitals like the ones at Orlando Regional Healthcare are difficult environments for cellular coverage because they contain a relatively large number of small rooms and the cellular system must not interfere with wireless signals from medical telemetry equipment," said John Spindler, vice president of marketing at LGC Wireless. "Like our other products, the Fusion system produces consistently high signals from each remote antenna, reducing the chance of cellular phones interfering with other equipment. We are proud to have made a top regional hospital one of our first customers for the multi-carrier InterReach Fusion product."
About LGC Wireless
With more than 10,000 deployments worldwide, LGC Wireless is the leader in extending scalable, high-performance wireless coverage and capacity inside buildings and public facilities. LGC's products offer low-cost installation, end-to-end monitoring and management, and easy integration of emerging wireless technologies. LGC Wireless is based in San Jose, California USA and is privately held. For more information, please visit http://www.lgcwireless.com.
# # #