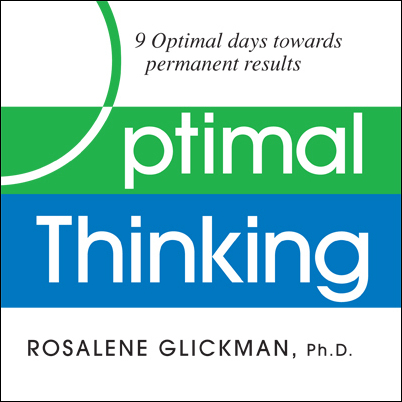 the successor to positive thinking.
Los Angeles, CA (PRWEB) April 30, 2007
According to Dr. Rosalene Glickman, "What's most exciting about Optimal Thinking is that everybody can use it. It doesn't matter what stage of life you are in, or in what circumstance you find yourself -- you can use Optimal Thinking to instantly make the most of your personal life and career. When you listen to this audio program and take the prescribed Optimal action steps, you are on the optimal success track. You employ the realistic style of thinking that provides the best chance of achieving everything you want. You uncover your highest priorities, create your own best solutions, and take the best actions to achieve what is most important."
Glickman adds: "Suboptimal thinking can cost you a great deal of time, energy, joy and money. During the first two CDs, you learn how negative and positive thinking can help you, how positive thinking falls short in your life, how optimal thinking resolves the five shortcomings of positive thinking, and how to maximize every situation with Optimal Thinking. You also learn about famous Optimal Thinkers and organizations that have shaped the world with Optimal Thinking. You ask yourself and others the best questions, make the most of everyday situations, and interact optimally with others. You simply choose the best, and optimize your life."
Endorsed by Stephen R. Covey, Kenneth Blanchard, Brian Tracy, Mark Victor Hansen, and numerous other experts, Optimal Thinking stops individuals and organizations from settling for second best.
About the Author:
Rosalene Glickman, Ph.D. is the creator and best-selling author of Optimal Thinking, hailed by academia and the media as "the successor to positive thinking."
Glickman is President of The World Academy of Personal Development Inc., a Los Angeles training and consulting firm. She provides coaching, consulting and training for individuals and organizations including Young Presidents' Organization, Warner Bros., Johnson & Johnson, U.S. Army, BP, National Australia Bank, Internal Revenue Service and California State University, Fullerton (School of Business Administration).
Glickman, who was born in Australia, lives in Los Angeles. She has earned a Ph.D. in Psychology and a degree in Business Administration.
OPTIMAL THINKING® is a registered trademark of The World Academy of Personal Development Inc.
Dr. Glickman is available for media interviews. For more information, visit http://www.optimalthinking.com.
About the Audiobook:
Title: Optimal Thinking: Nine Optimal Days Toward Permanent Results
Author: Rosalene Glickman , Ph.D.
Format: 4 CD / 4 hours
Price: $29.98 (US) / $37.98 (CAN)
ISBN: 1-59659-088-2
Available: April 2007
Published by Gildan Media Corp. This audio title is available at all fine book retailers (all Barnes & Noble), on-line at Amazon and as a download at iTunes and http://www.audible.com
Your Coach in a Box is a line of personal development audiobooks from Gildan Audio that bring bestselling authors and lecturers directly to you, at the best prices.
Gildan Audio is a division of Gildan Media Corporation, a multimedia publisher of audiobooks and books. Gildan Audio titles (including The Attractor Factor, Life's Missing Instruction Manual and The Secret of Getting Rich), are distributed to the trade by Hachette Book Group USA. More about Gildan Media can be found at http://www.GildanMedia.com.
# # #