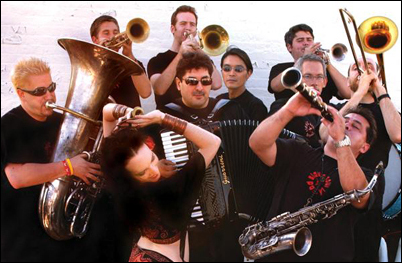 I am going to feature the best of the bands that showcase some of that old world lure
NEW YORK, NY (PRWEB) April 24, 2007
BreakThru Radio (BTR), the Internet's source for the World's Best Independent Music, announced today the world premiere of its brand new specialty show from DJ Lottie, called "Lottie's Sideshow Acts". This unconventional new show offers listeners the opportunity to hear a variety of bands that specialize in an Eastern European kind of feel. "Lottie's Sideshow Acts" is the latest installment in the station's successful series of specialty shows. DJ Lottie's groundbreaking new show can be found only on http://www.breakthruradio.com.
"Lottie's Sideshow Acts," was created to give BTR listeners a rare chance to hear an eclectic mix of music that they would not have the opportunity to hear on mainstream radio. The show features bands from across the world, from Brooklyn to Macedonia to Yugoslavia. The playlist includes talented acts such as Slavic Soul Party, Circus Contraption, and The Ambitious Orchestra. A new edition of "Lottie's Sideshow Acts" will air on BTR every month.
"I am going to feature the best of the bands that showcase some of that old world lure," explains DJ Lottie, who describes the new show as having an "eastern European meets gypsy meets the Balkans" kind of sound. "Think men with handlebar mustaches, accordions and violins, but with a circus style! There will be clarinets, trombones and trumpets!"
With the addition of "Lottie's Sideshow Acts," BTR further fulfills its goal of offering listeners complete on-demand, free programming that caters to whatever music niche in which their taste lies. Other BTR specialty shows include a folk show, a blues show, a heavy metal show, a dance music show and a hip-hop show.
"Lottie's Sideshow Acts" will premiere on BTR today and will be available in the station's archive and program guide, along with all of BTR's previous specialty programs. Listeners can tune in to hear DJ Lottie's new show by visiting http://www.breakthruradio.com.
ABOUT BREAKTHRU RADIO
BreakThru Radio (BTR) is the Internet's source for the World's Best Independent Music, where expert DJs expose the rich underground of sound not found on commercial radio. Whether it's death metal, dancehall, hip-hop, indie rock, roots country, reggae, electronica, acid jazz, ambient beats, dub, two-step or folk, whatever genre you can imagine, BTR has it well-stocked, and with no expiration date.
In a world where independent music is becoming infinitely more accessible, the need for informed sources to filter out the best of it has become a necessity. Music fans across the globe are beyond frustrated with commercial radio, and often feel victimized by it.
Until now.
"Music for music lovers," is BTR's motto, and one that its DJ's take very seriously.
BTR offers its listeners unlimited access to underground music, twenty-four hours a day, seven days a week, with a daily audience that includes more than two dozen countries. With its unique on-demand musical programming and focus on the best in new, independent music, it's no surprise the site has garnered over 80 million listeners in its first year.
2007 has seen the addition of independent video coverage to BTR, as well as top-notch editorial content and an intuitive global show calendar. In fact, you could say that BTR has taken everything a music fan could ever need or want, and put it all into one cohesive website, completely free of charge.
Unlike other radio stations, BTR offers on-demand programming; a first in internet radio. Listeners can cater to their specific musical preferences, and at the same time discover the best independent and unsigned artists from across the world.
Using the cutting edge technology of UpSNAP, BreakThru Radio makes all of its shows more accessible to an on-the-go market of students and young professionals, via exclusive access to its on-demand programming through the medium of mobile phones. BreakThru Radio services are available through virtually all of the major carrier networks in the U.S., including Nextel/Sprint, Cingular, Verizon, AT&T, Alltel and T-Mobile.
BTR can be heard on http://www.breakthruradio.com and http://www.NYTrack.com, New York's only website dedicated to the tri-state high school track community, thus reaching over 5 million high school students.
CONTACT
Colleen McAllister, BreakThru Radio
colleen @ breakthruradio.com
###