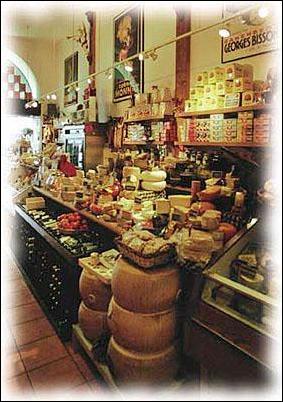 For decades, The Cheese Store of Beverly Hills has been known for carrying rare and hard to find artisanal foods and gourmet goodies, long before the current wave of interest in artisanal products. The American Artisanal Treasure Awards is my way of saying thank you to these fine artisans, many of whom are pioneers in their category
Beverly Hills, CA (PRWEB) May 3, 2007
Norbert Wabnig, proprietor of The Cheese Store of Beverly Hills, has announced the winners of his Third Annual American Artisanal Treasure Awards. The American Artisanal Treasure Awards was created by Wabnig to honor producers of handmade specialty foods across the United States.
"For decades, The Cheese Store of Beverly Hills has been known for carrying rare and hard to find artisanal foods and gourmet goodies, long before the current wave of interest in artisanal products. The American Artisanal Treasure Awards is my way of saying thank you to these fine artisans, many of whom are pioneers in their category," Wabnig says. Each winner received a custom designed cheese cabinet autographed by the judges.
To choose the winners, Wabnig assembled a stellar panel of judges including Evan Kleiman, Chef and Host of KCRW's "Good Eats;" Hans Goplen, Executive Chef, The Farm of Beverly Hills; Kit Rachlis, Editor in chief, Los Angeles Magazine; Mona Harrington, Chef, Culinary Institute of America; John Larroquette, Actor; Mike Kassar, Fromagier, Spago Beverly Hills; Sharon Palmer, Cheesemaker, Nanny Udderly's Healthy Family Farms; and Deborah Racine, Public Relations.
The Winners
Soft Goat's Milk: Hoja Santa
Cheesemaker: Paul Lambert, Mozzarella Cheese Company, Texas
Firm Goat's Milk: Tequila Abbey
Cheesemaker: Nancy Patton, Haute Goat Creamery, Texas
Soft Cow's Milk: Holy Cow
Cheesemaker: Chef John Folse, Bittersweet Plantation, Louisiana
Washed Rind Cow's Milk: Winnimere,
Cheesemaker: Mateo Kehler, Jasper Hill Farm, Vermont
Firm Cow's Milk: Appalachian
Cheesemaker: Helen Feete, Meadow Creek Dairy, Virginia
Cow's Milk Aged Cheddar: Hook's 12 Year Cheddar
Cheesemaker: Tony & Julie Hook, Hook's Cheese Company, Wisconsin
Firm Sheep's Milk: Pozo Tomme
Cheesemaker: Christine & Jim Maguire, Rinconada Dairy, California
Blue: Rogue River Blue
Cheesemaker: Cary Bryant & David Gremmels, Rogue Creamery, Oregon
Since 1967, The Cheese Store of Beverly Hills has provided the rarest handmade, farm fresh cheese, as well as a choice selection of olive oils, foie gras, truffles, meats, breads and sweets, and boutique wines. The Cheese Store of Beverly Hills is the purveyor of choice for noteworthy restaurants such as Spago, Valentino's, Sona, Melisse, The Bellagio and the Wynn Resort, and numerous celebrities including Ringo Starr, James Spader, Danny DeVito, Whoopi Goldberg, Nicholas Cage and Sandra Bullock.
The Cheese Store of Beverly Hills is located at 419 N. Beverly Drive, Beverly Hills, California 90210. Tel: 310 278-2855 or toll-free: 1-800-547-1515.
Visit http://www.cheesestorebh.com.
# # #