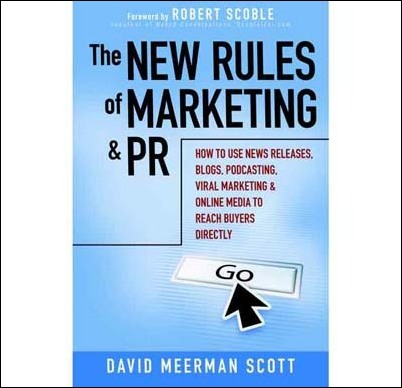 Sure, the standard templates offered by the blog software providers are great to get started, but once you are into the blogging thing, it is important to make your blog personality shine through based on the links, images, masthead and other widgets
Lexington, MA (PRWEB) June 27, 2007
Most Bloggers fail to understand the importance of creating a distinct, consistent, and memorable blog, says online thought leadership strategist and viral marketing expert David Meerman Scott. Pimping out a blog is one of the easiest ways for a blog to take advantage of viral marketing effects. A strong focus on blog personality and character pays off.
"My daughter entered eighth grade this September and for the week before classes began she enjoyed pimping out her school binder," Scott says. "All the cool girls do it. A standard plastic three-ring binder is transformed with photos, stickers, song lyrics, and other bits and bobs on the outside. She's even got a spot for a quote of the day which she updates each morning. Inside, the binder has page dividers she's customized, and pocket folders with pens and protractors and whatnot. I got to thinking that the same is true of good blogs. A pimped out blog shows the blogger's personality."
Scott says that blog software, while easy to use, tends to make everyone's blog look the same. He says it is much more difficult to develop a blog personality when your blog appears identical to everyone else's.
"I've pimped out my marketing blog with lots of cool stuff. On the top is a masthead that I had a designer friend create. On the right and left columns, I have links from the cover images of my books to Amazon. Because it is part of my Amazon Associates program account, I'm even paid a small commission. It's not much money, but every few months I can take my family out for a decent dinner on the proceeds."
Bloggers should also create links to pages on other sites and blogs that they are affiliated with. It is easy to add multi-media too, including audio and video content.
"Sure, the standard templates offered by the blog software providers are great to get started, but once you are into the blogging thing, it is important to make your blog personality shine through based on the links, images, masthead and other widgets," Scott says. "Pimping out your blog is easy. If you devote a few hours to it, you can make a very cool looking blog that even my teenage daughter would approve of. And you will drive more readers."
Scott's book The New Rules of Marketing & PR: How to use news releases, blogs, podcasts, viral marketing & online media to reach your buyers directly, features a foreword by Robert Scoble, Vice President Media Development at PodTech.net, co-author of Naked Conversations, and one of the world's most popular bloggers at Scobleizer.com and is available wherever business books are sold. ISBN: 0-470-11345-6
David Meerman Scott is an online thought leadership strategist and viral marketing expert. The programs he has developed have won numerous awards and are responsible for selling over one billion dollars in products and services worldwide. Scott has been named to MarketingSherpa's Viral Marketing Hall of Fame two years in a row. He is also an instructor for Pragmatic Marketing and he has lived and worked in New York, Tokyo, Boston, and Hong Kong and has presented at industry conferences and events in over twenty countries on four continents.
###