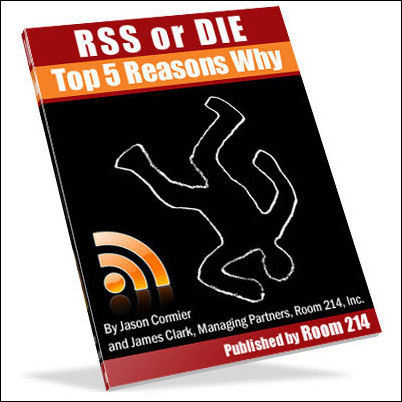 We receive inquiries from people every day asking about RSS. We wanted to help them understand WHY they need to consider RSS in their integrated marketing programs
Boulder, CO (PRWEB) June 7, 2007
Room 214, http://www.Room214.com, co-founding partners Jason Cormier and James Clark published "RSS or DIE: Top 5 Reasons Why." The paper was initially published and distributed as a by-line article in MarketingProfs.com.
The white paper covers in depth the following five points:
1. RSS Provides Choices for Consumer-Relevant Information
2. RSS Guarantees Delivery of Content Upon Release
3. RSS Dramatically Increases Online Visibility
4. RSS Positions Your Organization as a Leader
5. RSS Future-Proofs Your Communications
"RSS is one of the most powerful yet misunderstood marketing tools of its time," says Cormier. "Really Simple Syndication (RSS) is a trap phrase. Yes, it's easy to put RSS feeds on your site. What's often overlooked is how those feeds can be managed and tracked to maximize your expert positioning, brand loyalty and search engine visibility."
In a world where ranking #1 in Google can profoundly impact a company's growth, perceived organizational expertise and leadership in a market, companies embracing RSS as an integrated marketing strategy will gain a clear competitive advantage over their competition.
"We receive inquiries from people every day asking about RSS. We wanted to help them understand WHY they need to consider RSS in their integrated marketing programs," says Clark. "The benefits are mind blowing, but there is still a hesitation to take to the plunge. We're out to make it clear that RSS is to be overlooked at your own peril."
Download the free white paper at http://www.room214.com/rss
About Room 214 INC
Room 214, http://www.Room214.com, is a search marketing and social media agency offering outsourced search marketing and social media services that include: custom blog implementations, podcast production and promotion, syndicating press rooms, optimized press releases, RSS marketing, online article marketing, search engine optimization, pay-per-click campaigns and social media campaigns leveraging MySpace, YouTube, Google Video, iTunes and others.
Visit:
Capture the Conversation (CTC) Blog: http://www.CapturetheConversation.com
###