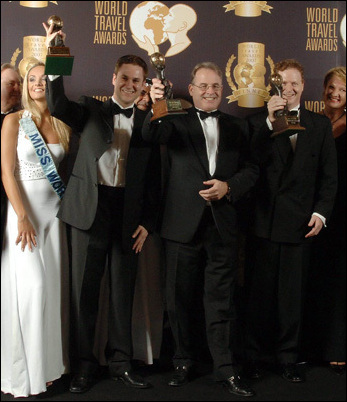 an unprecedented achievement in the air travel industry
New York, NY (PRWEB) June 1, 2007
Etihad Airways, the national airline of the UAE, has won the highly coveted "leading airline" award at the World Travel Awards (WTAs) for the Middle East and Africa.
Votes for the WTAs were taken from nearly 170,000 travel industry professionals from around the world, of which 110,000 are travel agents.
The airline drew particular praise at the WTA ceremony for building a global flight network of 42 destinations in as many months, which the awards' organizers describe as "an unprecedented achievement in the air travel industry".
James Hogan, Etihad Airways' chief executive, said: "This is fantastic news especially in the face of strong competition from some very good airlines, particularly those based in the Middle East."
Etihad was also presented with the awards for "leading first class airline" and "leading airline website" at the high profile ceremony at Abu Dhabi's Emirates Palace Hotel.
The ceremony was presented by American TV stars Jamie-Lynn Sigler, from "The Sopranos", and Chris Noth from "Sex and the City".
About Etihad Airways:
Etihad Airways is the national airline of the United Arab Emirates based in the UAE's capital, Abu Dhabi.
Currently Etihad offers flights to 42 destinations in the Middle East, Europe, North America, Africa, Asia and Australasia.
For further details: Etihad Airways:
Call (212) 984-1878 or visit http://www.etihadairways.com
###