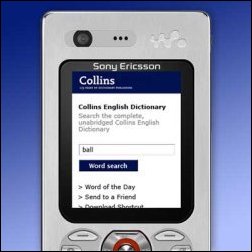 (PRWEB) June 4, 2007
Since its inception in 1979, Collins English Dictionary has provided English speakers around the globe with the most accurate and up-to-the-minute representation of their language as it is really used.
For the first time ever the dictionary will be made available for customers to use through a mobile internet site. Users can now look up over 430,000 words and definitions using a mobile phone.
Customers who purchase the latest print version, which goes on sale on 4th June, will be able to access the online and the mobile internet services.
Graeme Harvey, Digital Publishing Manager at Collins English Dictionary says "The principal strength of the CED lies in its unstinting concentration on living English. Language is never fixed, and English is evolving more rapidly than ever. In the right environment nothing beats the convenience, the simplicity of a printed book. But this is the digital age, and dictionary users' needs have changed.
Its always been our focus to make the CED available to everyone and that means that we have to make it available in as many formats as possible. With ever-faster internet connections and the growing penetration of mobile handsets we couldn't ignore these new media for our new dictionary.
We met with several mobile agencies but decided to give the project to New Visions. They had a more combined approach bringing together the creative skills and the technology. We also felt we could learn a lot from their experience in the mobile market."
Julia McNally, Director and Co-Founder of New Visions says "We're very excited to be working on a project that really is making history, and it just shows how traditional publishers are now starting to embrace digital media and in particular the mobile internet. The site itself is probably going to be the world's largest wap site. It will have a searchable database that will bring immediate results on word searches outlining the word definition, and the etymology."
Access to the dictionary is via text trigger : CED to 84477 and also via mobile URL http://www.collinslanguage.mobi.
Notes:
New Visions is a pureplay mobile agency working with clients such as EMI, Harper Collins, ActiVision, VNU, Warner Bros, Sony Pictures, Strongbow etc.
We provide creative, retail, media and marketing solutions to brands and service providers who want to reach out to consumers via their mobiles. New Visions created the The Lily Allen mobile loyalty site recently featured in the Music Week Awards.
Contact : Julia McNally 0845 2020105, Julia @ new-visions.co.uk
###