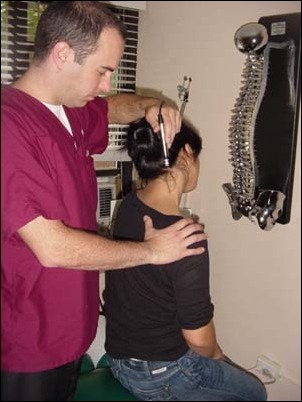 I've had different treatments. This works longer and better.
New York, NY (PRWEB) June 11, 2007
There's a new weapon in the arsenal for treating pain and swelling related to carpal tunnel syndrome, neck trauma and other injuries caused by sports, work, traffic accidents and falls.
Called low-level laser treatment, or LLLT, this "cold laser" machine looks like the handheld tricorder used in sick bay on the Starship Enterprise. However, the Food and Drug Administration recently approved its use for relieving chronic pain in the neck and shoulder.
In studies, the devise increased muscle strength and range of motion and decreased inflammation.
Dr. Steven Shoshany, whose chiropractic office is located at 10 Downing Street in Manhattan, has a couple of cold lasers he uses on many of his patients .Patients may come in once or twice a week for treatment.
Dr. Shoshany is the first chiropractor in the area to use the machine at his practice. Dr. Shoshany uses it everyday. Many times the patients get immediate results.Patients that are receiving Spinal decompression which is a Non surgical technique to correct disc herniations enjoy cold laser treatment because it can erase any pain or soreness.
An informal survey of Dr. Shoshany's patients found that three out of four found relief from pain and stiffness after a two-minute treatment.
"The laser does work" says Carol Greenburg, a chef by profession.
After a career of carving, slicing, chopping and preparing food, Greenburg suffered pain related to carpal tunnel syndrome in her left hand. It was injured too badly for therapy and she needed surgery.
Now, she comes in for treatment every two weeks.
"Then my right hand started the carpal tunnel syndrome, and the laser has done a marvelous job on it, she said.
Greenburg's husband, Mark, also has periodic pain in the right foot resulting from small cumulative injuries throughout his lifetime.
"My foot feels sometimes like I dropped a pot on it, he said. It used too last for weeks at a time until I'm limping. I've been coming here about once a month for six months, and it takes the pain right away," he said.
Bursitis locked up Mary Smith's left shoulder before she went to see Dr. Shoshany. Her job combined with her favorite pastimes of gardening, knitting and sewing caused excruciating pain whenever she lifted her arm higher than halfway. She also has arthritis related to an old whiplash in injury.
"It's called paying for the sins of your youth" she said. "Initially, I thought the laser was hocus-pocus. After the first treatment, I could move my arm. After a couple more, I could raise it over my head again." The treatments have allowed Smith to go about her regular routine. "I get rid of enough pain that I don't have to take any medications or cortisone shots," she said. "I've had different treatments. This works longer and better."
For patients suffering with herniated discs the combination of Non-surgical spinal decompression with the DRX 900 and cold laser therapy the results are trully amazing.
Patient that recieve Cold laser therapy after their spinal decompression sessions report less tenderness and pain and better range of motion.
To learn more about Spinal Decompression for treatment of Chronic back pain due to herniated disc please visits http://www.drshoshany.com or call 212 645-8151
###