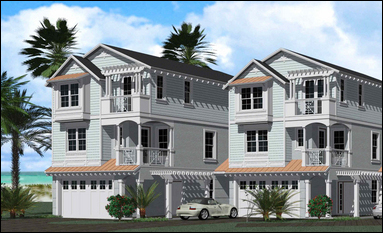 Ponce Inlet, FL (PRWEB) June 5, 2007
On June 7, 2007, join Cranewoods Development and HCM Construction as they celebrate groundbreaking for The Beach Club Cottages at Ponce Inlet. From 5PM until 8PM, real estate agents, brokers and prospective buyers will gather at Racing's North Turn Restaurant on the beach just south of Daytona in Ponce Inlet.
Property tours will be available at the site of these Florida oceanfront homes. Details of The Beach Club Cottages at Ponce Inlet project -- including the West Indies inspired architecture and open beach floor plans -- will be provided.
The Beach Club Cottages oceanfront condominium project has been designed with a wide range of owners in mind. Full time residents, homebuyers seeking Florida vacation homes as well as those looking for a Florida tax-deferred 1031 exchange will all appreciate the spacious interiors, natural stone floors and private ocean views. Likewise, all residents of these Florida oceanfront homes will appreciate the privacy and beauty of natural dunes and enjoy the pristine beach community atmosphere.
The Beach Club Cottages luxury oceanfront condominium homes at Ponce Inlet are available now with pre-construction pricing and gives residents access to all that Ponce Inlet provides -- including unspoiled shoreline, local marinas, outdoor activities and great restaurants.
Racing's North Turn Beach Bar and Grille bridges the Atlantic Coast automobile and motorcycle racing history and Florida's oceanfront entertainment and dining. An important piece of NASCAR history, Racing's North Turn is appropriately named for the location of the North turn of the Daytona Beach racetrack, which was used from 1936 - 1958 for Daytona's Grand National Race.
The course ran south along Daytona Beach past the site of the Beach Club Cottages. Though the oceanfront and Racing's North Turn have changed over time, the history of the site remains vital to the Daytona and Ponce Inlet communities - as it will continue to do upon completion of The Beach Club Cottages Luxury Oceanfront Condominium Homes.
For additional information on the Cranewoods Development celebration of the start of construction of The Beach Club Cottages at Ponce Inlet, HCM Construction or visit http://www.cranewoods.com . For more information about The Cottages Luxury Oceanfront Condominium Homes at Ponce Inlet, contact us at Ponce Inlet Cottages.com
Cranewoods Development, LLC focuses on specialty waterfront real estate, luxury oceanfront condominium homes, and investment properties in Jacksonville, Jacksonville Beach, Ponce Inlet and St. Augustine, Florida. HCM Construction is Jacksonville's premier builder, general contractor and construction manager.
###