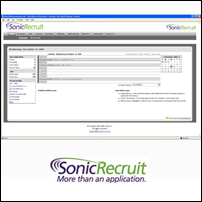 Talent Management: A Complete Guide to Strategies, Systems, and Issues
Vancouver, BC (PRWEB) June 7, 2007
Cytiva Software Inc. (CRX:TSX.V), a leading provider of on-demand recruiting software solutions, has been featured in a new report on talent management by Brandon Hall research.
The study, titled "Talent Management: A Complete Guide to Strategies, Systems, and Issues," contains the answers organizations need to ensure they find, develop, and retain the most skilled individuals. Co-written by industry experts Mark Albrecht and Janet Clarey, Senior Researcher and Writer at Brandon Hall Research, this 211-page report provides the most in-depth information available on the topic of talent management.
Cytiva's SonicRecruit system is profiled as one of "20 leading talent management systems." The company provided extensive information to aid the authors in preparing the report, including details about Coca-Cola Bottling Company's highly successful implementation of SonicRecruit.
"Cytiva is proud to be profiled the Brandon Hall Research report," said Jason Moreau, CEO of Cytiva Software Inc. "As we continue to fulfill our mission of providing world-class talent management tools to mid-sized organizations, this kind of recognition is crucial to our success."
For more information about SonicRecruit recruiting software, visit http://www.sonicrecruit.com.
For more information about "Talent Management: A Complete Guide to Strategies, Systems, and Issues," visit http://www.brandon-hall.com.
About Brandon Hall Research
Located in Sunnyvale, Calif., Brandon Hall Research, http://www.brandon-hall.com, is an independent research firm that provides advice and insight on workforce development and talent management technologies, trends, and issues through reports, knowledge bases, Webinars, and consulting. The company also hosts the Brandon Hall Network, http://www.brandonhallnetwork.com, a thriving community of practice where workforce learning & development and HR professionals connect with peers globally to share ideas, advice, and resources. Brandon Hall Research also presents the annual Brandon Hall Excellence in Learning Awards, spotlighting the best learning programs, technologies, and innovations and produces the Brandon Hall Innovations in Learning Conference, http://www.brandonhallconference.com, the premier meeting place for interactive, hands-on exposure to learning tools and technologies.
About Cytiva Software Inc.
Cytiva Software Inc. (CRX:TSX.V) provides innovative software and services to help mid-sized and Fortune 500 companies hire, manage and maximize their talent. Its flagship talent acquisition product, SonicRecruit, allows corporations to screen applicants, automate their recruiting departments, customize their corporate career sites and hire great people. This premier applicant tracking system improves recruiting effectiveness, speeding up the hiring process and reducing cost per hire. Over 170 organizations use SonicRecruit, including Coca Cola Bottlers, American Standard, Restoration Hardware, NetFlix and more. For more information, visit http://www.sonicrecruit.com.
CONTACT:
Ian Alexander
mediarelations(at)sonicrecruit.com
510-984-1986
The TSX has not reviewed and does not accept responsibility for the accuracy or adequacy of this news release, which has been prepared by management.
Forward-looking Statements: This news release contains forward-looking statements related to the future financial condition and results of operations of Cytiva. These statements are based on current expectations and estimates about the human resources markets in which Cytiva operates and management's beliefs and assumptions regarding these markets. These statements are subject to important risks and uncertainties which are difficult to predict and assumptions which may prove to be inaccurate. Some of the factors which could cause results or events to differ materially from current expectations include but are not limited to: general economic conditions, market or business conditions; changing competitive environment; changing regulatory conditions or requirements; changing technology; and success in implementing productivity initiatives. Some of these factors are largely beyond the control of Cytiva. Should any
factor impact Cytiva in an unexpected manner, or should assumptions underlying the forward-looking statements prove incorrect, the actual results or events may differ materially from the results or events predicted. All of the forward-looking statements made in this document are qualified by these cautionary statements, and there can be no assurance that the results or developments anticipated by Cytiva will be realized or, even if substantially realized, that they will have the expected consequences for Cytiva. Readers should not place undue reliance on any forward-looking statements. Further, Cytiva disclaims any intention or obligation to update or revise any forward-looking statements, whether as a result of new information, future events, or any other occurrence.
This press release was distributed through eMediawire by Human Resources Marketer (HR Marketer: http://www.HRmarketer.com) on behalf of the company listed above.
###