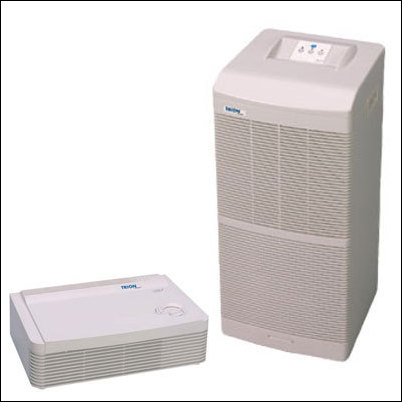 The Trion models are especially useful for home offices which tend to be perpetually dusty from shuffling papers, and from computers and printers
Elyria, Ohio (PRWEB) June 12, 2007
ClearFlite Air Purifiers, a major internet dealer of portable room air purifiers, at has added the Trion line of electronic air purifiers to its lineup. Manufactured by Fedders, the Trion line of air cleaners provides lower cost indoor air cleaning because of its washable electronic plates.
ClearFlite primarily sells HEPA air purifiers on its website, but for a number of years has offered a unit with washable filters made by Friedrich. The one unit made by the air conditioning company, Friedrich, has been popular because of its prominence in Consumer Reports Magazine. However, ClearFlite believes the Friedrich C90B is overpriced and has not found the company's after sales support to be in line with what ClearFlite finds acceptable. The Trion line that ClearFlite now offers is commensurate with the Friedrich model, less expensive, and better supported. The Trions have a five year limited warranty, whereas the Friedrich model only has a one year.
The Trion line includes two models: a Tabletop model which cleans a small room up to 200 square feet with three air changes per hour, and a Console model which cleans up to 300 square feet with three complete air changes per hour, or up to 450 square feet with two changes per hour. The Tabletop model (TTE1502A) is priced at $129.99 and the Console model (TCE3002A) is $279.99. Free ground shipping in the continental U.S. is included with each model sold by ClearFlite.
Although ClearFlite Air Purifiers continues to recommend HEPA air cleaners with activated carbon for allergenics and asthmatics, as well as persons with Multiple Chemical Sensitivity, it has found the Trion models are very helpful with reducing household dust. ClearFlite tested the Trion models in nail salons where there was a very high level of particulate in the air from the constant filing of artificial nails. The Trion models did an excellent job trapping the dust and were easy to wash. In that high-dust environment, the Trions required weekly washing of the electronic plates. However, in a normal home environment (unless there are a lot of pets or smoke), they will typically not need to be washed so often.
"The Trion models are especially useful for home offices which tend to be perpetually dusty from shuffling papers, and from computers and printers," said Terri Zajac, President of ClearFlite.
###