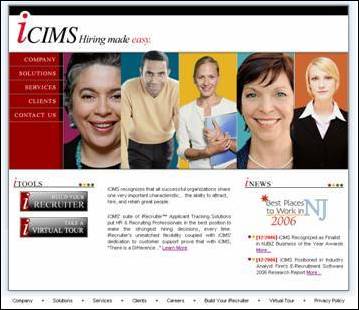 the business world's own Oscars
Hazlet, NJ (PRWEB) June 12, 2007
iCIMS, a leading Software-as-a-Service (SaaS) provider, today announced the company has been named a finalist in the 2007 American Business Awards. Recognized for his ability to develop and execute innovative Customer Service programs at iCIMS, Tim Ross, Manager of Account Services, was recognized in the "Most Creative Person" award category.
Hailed as "the business world's own Oscars" (New York Post, April 27, 2005), The American Business Awards are the only national, all-encompassing awards program honoring great performances in business. More than 2,000 entries from companies of all sizes and in virtually every industry were submitted for consideration in more than 40 categories, including Best Overall Company, Best Executive, Best New Product or Service, and Best Corporate Social Responsibility Program.
Finalists were chosen by business professionals nationwide during preliminary judging earlier this spring. Stevie Award winners will be announced Monday, June 11 at the Marriott Marquis Hotel in New York City. The ceremony will be videocast on the Internet and broadcast on radio, and hosted by Larry Wilmore of The Daily Show with Jon Stewart.
"We are honored that Tim and iCIMS Support have been recognized by the American Business Awards," said Colin Day, President and CEO of iCIMS. "This award is a testament to our company's dedication to customer service, which is reflected by iCIMS' 97 percent customer renewal rate. We are very proud of Tim and thank him for his ongoing commitment to iCIMS' service programs."
Ross' contributions to iCIMS' Customer Service encompass client education, training, and overall customer satisfaction. Included in iCIMS' client education offerings are free bi-weekly training webinars, which ensure that all iCIMS clients are maximizing the potential of their iRecruiter investment through user adoption and system proficiency. Additionally, iCIMS provides all system users with access to the company's Customer Care Site, an interactive networking forum for iCIMS clients to exchanges Best Practices, download industry materials, and receive system tips on-demand.
"Being named a Finalist in The American Business Awards is an important achievement," said Michael Gallagher, founder and president of The Stevie Awards. "It means that independent business executives have agreed that the nominee is worthy of national recognition. We congratulate all of the Finalists on their achievement and wish them well in the competition."
Details about The American Business Awards and the list of Finalists in all categories are available at http://www.stevieawards.com/aba.
This press release was distributed through eMediawire by Human Resources Marketer (HR Marketer: http://www.HRmarketer.com) on behalf of the company listed above.
# # #