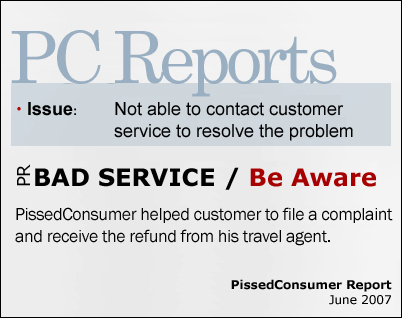 Consumers can sometimes feel that they have no leg to stand on when they feel cheated or betrayed by a company
New York, NY (PRWEB) June 15, 2007
The consumer advocacy website, http://www.PissedConsumer.com, today announces the launch of a new free feature - an online tool designed to help visitors craft effective consumer complaint letters more quickly. The new review capturing mechanism also allows users to generate a copy of their complaint in PDF format. The consumer complaint letters created using this new tool are intended to be mailed to the subject of the review or complaint to initiate actions toward the resolution of the complaint.
"Consumers can sometimes feel that they have no leg to stand on when they feel cheated or betrayed by a company," says Michael Podolsky of PissedConsumer.com. "Often, single complaints go unanswered and ignored, and pursuing the matter through legal channels is simply too costly for your average consumer. Complaint letters still have the power to effectively bring a resolution to the problem, if they're written in a serious and professional manner detailing the precise problem and exactly what the consumer would like the company to do to rectify the situation, rather than simply exchanging heated words. Our free tool aims to help consumers achieve exactly that; a successful resolution to their complaints."
The computer-generated consumer complaint letters contain all vital information, including:
1. Date of the complaint filing
2. Complainant's name and address
3. Name and address of the recipient of the complaint
4. Complaint title and details
5. Information for the recipient of the complaint regarding how to proceed in resolving the issue to the satisfaction of the complainant
This free tool makes it easy for consumers to generate effective complaint letters in a three-step process:
1. Enter the category, title, and complaint details into the form provided.
2. Login or register to become a user of PissedConsumer.com.
3. Provide any supplemental information necessary for PDF generation.
Registration and the supplemental information page are required steps in writing complaint letters using this free tool, if users want to receive an automatically-generated PDF copy of their complaint. These PDF versions of the complaint letters are designed to be mailed to the subject of the complaint directly to notify them of the issue, as well as the fact that a complaint was registered with PissedComsumer.com against them. These complaint registrations are designed to be a motivational tool to drive companies into successful dispute resolution with consumers.
About PissedConsumer.com
PissedConsumer.com is a premier consumer advocacy group, featuring consumer reviews and complaints in a social networking environment. The company uses online tools to publicize reviews and complaints filed by consumers on the internet. In addition, the site offers a set of free tools necessary to bring the dispute to a fast and successful resolution, including a consumer complaint letter generator.
For more information about PissedConsumer.com or the new free complaint letter generator, please visit http://www.PissedConsumer.com or contact Michael Podolsky at 646-202-1809.
Contact:
Michael Podolsky
Phone: 646-202-1809
Web: http://www.PissedConsumer.com
###