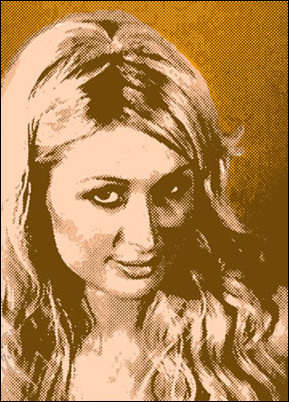 American celebrities love to mug for the camera
West Hollywood, CA (PRWEB) June 15, 2007
Paris is indeed Hollywood's Most Wanted and artist Schmeidler gives Paris some special treatment of her own with a new print. The print is part of an exhibition on display at Hollywood's Arclight Cinemas. It will run through June 21st 2007.
"Hollywood's Most Wanted" is an original and at times both darkly humorous and upsetting take on celebrity portraiture. Mug shots of entertainment figures released by law enforcement are given star treatment and restored to glamour.
In a vibrant array of colors and inky blacks that combine new imaging technology with silk screen techniques, the series presents a layered image that expresses the tensions between the gloss and grit of our celebrity icons.
Also on display is young Anna Nicole Smith, who is pathetically pretty in pink, heartbreaking in her all too brief innocence that seems to foreshadow her ignominious end. Lenny Bruce, free speech rabble rouser, decomposes before our eyes, reflecting a society in transition. Elvis and Eminem; Jacko and Marilyn Manson; all do star turns on the walk of fame and shame.
The exhibit was created by the artist Rachel Schmeidler. Raised in Germany, Schmeidler considers this show as an expression of her fascination with American pop culture. Schmeidler was inspired to make this series because "American celebrities love to mug for the camera", she says. Schmeidler came to the US in her teens and still retains something of the objectivity and fascination of an outsider as she combines the discernment of a cultural critic with the artists' expressive palette.
More information about the series including a complete list of subjects and purchasing information is available at http://www.HollywoodMostWanted.com.
###