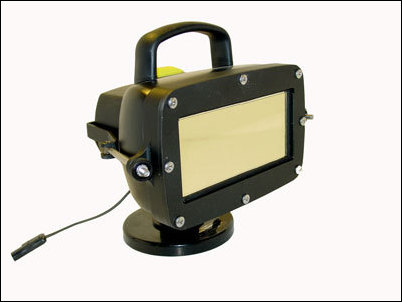 This effort is mostly based on demand
Flower Mound, TX (PRWEB) June 20, 2007
Larson Electronics Magnalight began shipping several new lighting products and related accessories.
Within the High Intensity Discharge (HID) category, Larson Electronics introduced the RL-11 35 Watt HID rechargeable spotlight with 90 minute run time lithium ion battery. Shipping in a hard shell case with a flood diffuser lens, this 12/24 VDC compatible light can be hard wired or battery operated, projecting a 4300 Kelvin color beam nearly 2500 feet. The RL-11 HID light complements the existing RL-10 35 Watt HID work light that has proven durable and effective for the US troops in Iraq and Afghanistan.
Within the remote controlled spotlight category, Larson Electronics added several new spotlights and mounting options. To add to its line of permanent mount and magnetic mount wired and wireless remote controlled spotlights, Larson Electronics added the Motion Pro line of suction cup mounted remote controlled spotlights. At a lower price point than the Golight remote spotlights, the black, white and camouflage Motion Pros include spot and flood beam patterns while rotating a full 360 degrees and tilting 180 degrees. The Motion Pro line of suction cup mounted remote controlled spotlights are powered via cigarette plug and include a wired handheld remote control. As in all the remote controlled spotlights carried by Larson Electronics Magnalight, these spotlights are useful on vehicles, boats and equipment.
Larson Electronics Magnalight also announced that it is extending the Golight Stryker spotlights range with remote controlled floodlights. This is a continuation of value add enhancement to the Golight remote control spotlights that began with adding magnetic bases to the Golight Radioray range of remote controlled spotlights and the Golight Stryker range of remote controlled spotlights and flood lights. The GL-XXXX-M SKUs include 200lb grip magnetic bases, 16 foot cords and cigarette plugs. The GL-3051-M, GL-3000-M, GL-3100-M, GL-3151-M, GL-3067-M and GL-3049-M are the most common magnetic Golight remote control spotlights. The GL-3067-F-M and GL-3049-F-M are the most common remote controlled floodlights.
In the event that operators are looking for manually remote controlled lights, Larson Electronics Magnalight began shipping a line of post mount lights and roof mount lights for vehicles and equipment. Commonly installed in the door or windshield support, post mount lights can be positioned by turning and rotating a small handle located within the vehicle. Roof mount lights are controlled in the same fashion, but are mounted in the center and/or corner of a roof of trucks, cars or heavy equipment. These post mount lights, commonly seen on police cars, and roof mount lights come in chrome and black. Custom post lengths are available for the roof mount lights.
In an effort to extend the versatility of all of the HID lights and remote controlled lights, Larson Electronics Magnalight introduced several new mounting options, including the adjustable stanchion mount, bar clamp mount, magnetic stainless steel boat mount plates and magnetic mounting bases for several lighting products. Operators can use the adjustable stanchion to mount remote control lights and stud mount HID lights to boats, vehicles and equipment. The stanchion mount enables the operator to set the height, rotation and angle of the lights to suit their purpose. The adjustable bar clamp mount enables operators to affix any spotlight or floodlight to any square or round bar in dimensions ranging from 1 to 4 inches. The magnetic stainless steel boat mounting plate enables boat operators to attach lights with magnetic bases to any boat. All of these mounts complement the Magnalight magnetic bases found on the Golight remote controlled spotlights, Acro Lights, Koehler Brightstar and Magnalight brand of spotlights, flood lights and work lights. Many of the parts and indexing angle controls are unique to Larson Electronics and common among other products including the magnetic mount tripods and adjustable locking magnetic base already in the market.
To further support their military product line, Larson Electronics introduced several complementary products, including infrared lens adapters for their HML-6M 24 Volt DC HID military spotlight, the HML-5M 24 Volt DC military spotlight and RL-10 35 watt HID rechargeable work light. In addition, Larson Electronics released their adjustable magnetic base for the tactical RUL-9 rubber encapsulated handheld tactical spotlight. Finally, Larson Electronics began shipping connector cables and wire harnesses that enable any Magnalight military spotlight or flood light to be connected to the Ultralife 2590 rechargeable batteries. Larson Electronics also carries the Ultralife 2590 rechargeable 24 volt batteries and associated Ultralife CH-0005 2 bay chargers to complete the lighting kits.
Larson Electronics Magnalight also began shipping HUMVEE infrared headlight covers. This heavy duty aluminum headlight cover secures a 850 nm or 950 nm cut off infrared lens, encapsulating and hiding all visible light emitted from the headlights of the HMMVW and other military Hummers. This is the newest innovation from Larson Electronics Magnalight that incorporates its ability to develop and produce custom glass lenses, including infrared, UV and other wavelengths of light.
Finally, Larson Electronics announced the addition of several new HID boat lights. Featuring cast aluminum housings, stainless steel mounting hardware, the powder coated white 6 inch round and 5X7 inch rectangular 35 watt HID lights project spot beam patterns reaching 2700 feet and flood beam patterns 250 feet in length by 250 feet in width. More than 5 times brighter than halogen beams, these HID boat lights work on 12 Volt DC and 24 Volt DC boats and draw far less amperage than their 300/400 watt halogen comparables. Built to the same specification as the 12/24 Volt equipment lights, the boat lights offer heavy duty, vibration resistant durability, powerful beams and 5,000 hour+ bulb life.
Larson Electronics continues to support the US troops in the Middle East in a variety of ways. At least twice each month, Larson Electronics Mangalight ships lights and accessories at no cost to soldiers in need, matches donated funds on bulk purchases of lights and sends new HID products as cost to many units based in Iraq and Afghanistan. "This effort is mostly based on demand," said Rob Bresnahan, President of Larson Electronics, "When the soldiers contact us and plan to buy lights with personal funds, we get them some lighting products that assist them in finding IEDs, locating targets and identifying risks, many times at no cost. We had a fairly large donation matching program last Fall with Sgt Henk's unit and as other soldiers contact us, we continue to send smaller amounts of lights, bulbs, etc. I would estimate that we have sent more than $30,000 in spotlights and vehicle mount lights to Iraq in the last 6 months. For better or worse, we more or less respond based on how our business is doing. If we are having a strong week and the soldier is looking to spend his/her own money, we will respond with several cases of lights at no cost. If sales are slower we might send smaller quantities. In the event that the soldiers have special project needs or require the more complex and expensive HID lights, we will donate our time and sell the materials at cost. When we know the soldiers are planning to spend their personal funds to buy lights, we do as much as possible to minimize their out of pocket expense, while getting them what they need. Our US made HML-5M (HLM-5M) 24 Volt military spotlight is the Escalation of Force kit standard, so we know that we have products that can help them."
###