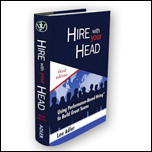 Hiring managers make mistakes when they allow presentation and emotion to overshadow performance, and this happens on a daily basis in offices around the globe
Irvine, CA (PRWEB) June 20, 2007
The Adler Group announces the release of Lou Adler's Updated Rules for Winning the Talent Wars.
HIRE WITH YOUR HEAD - Using Performance-based Hiring to Build Great Teams
Lou Adler is known in HR departments and by recruiters nationwide as the thought leader who successfully transformed hiring into a systematic and scalable process that leaves little to chance. Financial companies, hospital and health care systems, name brand online companies and product manufacturers are among the numerous organizations that rely upon Adler's Performance-based Hiring(sm) to win the talent wars. This summer, Adler has released the third edition of HIRE WITH YOUR HEAD, Wiley Sons, July 2007 ($29.95), featuring the time-tested approach and integrating it into today's online world.
Every hiring manager and every outside recruiter knows Lou Adler and The Adler Group as the source for improving their hiring success. Through onsite seminars, workshops, keynote speeches and webinars, The Adler Group trains thousands of people every year to help improve sourcing, interviewing, hiring and retaining talent to help companies prosper. In HIRE WITH YOUR HEAD, Lou explains why the traditional methods of hiring and interviewing simply do not work. When the fundamentally flawed hiring process is compared to the Performance-based Hiring approach, it becomes crystal clear which is the better way to go.
"To succeed today, any kind of organization must take pro-active control of the talent supply chain. This is as necessary in the hiring area as any other critical sector of a company," says Lou Adler. "HIRE WITH YOUR HEAD shows how."
This up-to-date and fully revised edition of HIRE WITH YOUR HEAD features an in-depth look at the biggest change in the hiring arena since the introduction of the personal computer. Social networking sites, such as LinkedIn, MySpace, ZoomInfo and others have eliminated any secrecy in hiring and recruiting. Available positions that were once shared only with potential candidates are now two or three mouse clicks away from discovery by anyone -- competitors as well as applicants. With changes in the hiring world happening at the rate of Internet innovations, keeping up with the rapid pace is a challenge. Knowing how to manage the information and the candidates who hold the same information cards as the hiring manager is critical.
The same Wild West atmosphere that has put information on job openings on the fast track has also led to dramatic changes in the attitude of potential hires. There are fewer obstacles to keep employees in positions they find unfulfilling or unrewarding. The stigma of leaving companies has just about vanished, and changing jobs for short-term and superficial reasons and accepting counteroffers are now acceptable. Qualified candidates can easily find new jobs and new opportunities. Companies must address these changes and adapt their sourcing and hiring methods to maintain any competitive edge.
HIRE WITH YOUR HEAD shows the reader how to find the best candidates, both active job seekers and passive browsers. Adler explores the use of multi-level sourcing, where pursuing a series of different channels ensures a constant flow of top candidates on an on-going basis.
Identifying top candidates but failing to conduct good interviews condemns the hiring process to failure. Adler explains how two simple questions can be used to identify real performance potential, bringing the candidate into an authentic give-and-take discussion about the actual challenges and situations that the position entails, and determining how the person will perform, based on how they have handled similar situations in the past. Hint: the success is in the details.
The methods described in HIRE WITH YOUR HEAD lead to a clear understanding of the candidate's problem-solving abilities, insights, intelligence, potential, vision and leadership skills.
"Hiring managers make mistakes when they allow presentation and emotion to overshadow performance, and this happens on a daily basis in offices around the globe," says Adler. "The system that I have created and refined eliminates these mistakes by taking the candidate and the interviewers step by step through this simple, yet highly analytical process."
For hiring managers, recruiters and anyone running a business or a department who wants to do a better job of finding, interviewing and hiring the best candidates, HIRE WITH YOUR HEAD is the only source they need.
Lou Adler is the president of The Adler Group, the training, recruiting and consulting firm that helps companies hire more top talent by implementing Performance-based Hiring . Lou is also the creator of the new Nightingale Conant audio tape program HIRE WITH YOUR HEAD and the award-winning POWER Hiring: How to Find, Assess, Hire and Keep Great Talent. Adler is a noted recruiting industry expert, national speaker, and columnist for a number of major recruiting Internet sites including HR.com, ERExchange.com and Workforce magazine. He is a veteran recruiter and founder of CJA Executive Search. Adler's early industry career included general management positions with The Allen Group, as well as senior-level financial management positions with Rockwell International's Automotive and Consumer Electronics groups. Adler holds an MBA from UCLA and a B.S. in Engineering from Clarkson
University, New York.
ABOUT THE BOOK:
HIRE WITH YOUR HEAD: Using Performance-Based Hiring to Build Great Teams
By Lou Adler
Wiley & Sons
ISBN: 0470128356
July 2007
$29.95
Hardcover
If you do not have a copy of HIRE WITH YOUR HEAD or would like additional information on Lou Adler, call Christina Ajam at 408-978-2899 or christina(at)adlerconcepts.com, or call Shari Goldstein at 631-595-7150 or shari(at)goldsteinPR.com and please provide your name, mailing address, name of publication and all other contact information.
This press release was distributed through eMediawire by Human Resources Marketer (HR Marketer: http://www.HRmarketer.com) on behalf of the company listed above.
###