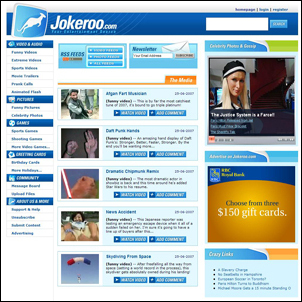 We are very excited to add Jokeroo.com as video channel on Canoe.com
Brampton, Ontario (PRWEB) June 26, 2007
Jokeroo.com, which specializes in user-generated online video, has entered into partnership with Canadian based Canoe Inc. Jokeroo.com will begin syndicating its content to Canoe.com's video portal starting this month.
Jokeroo's partnership with Canoe Inc will mark the first of its kind in Canada, following similar partnerships established in United States with American Online and Broadband Enterprises. "Jokeroo is not exactly like Youtube, we focus on high quality, not quantity" says Chris Pavlovski of Jokeroo.com. Each and everyday of the week Jokeroo.com provides five hand picked videos to distribute on its website and to its partners.
"We are very excited to add Jokeroo.com as video channel on Canoe.com" says Dominique Forest at Canoe Inc. With the increased demand of online video, Jokeroo.com will supply Canoe with a full suite of user-generated videos ranging from funny to extreme content as well as funny and original programming produced by Jokeroo.
Late 2007 will bring a full pipeline, including the long awaited launch of Filecabin.com, and the launch of Jokeroo's first ever webisode. FileCabin.com currently sits in beta with new features being added daily and the new webisode is slated to start production in August. "We're very excited to have yet another distribution channel for our content" says Aleks Dugonjic of Jokeroo.com. The webisode will target the college demographic and include product placement from various brand advertisers.
Jokeroo.com is one the leading video entertainment websites on the market today. Founded in 2001 in the city of Brampton, Ontario, the company currently hosts over 5 million unique visitors, 125,000+ community members, and has over 1 million active email subscriptions.
###